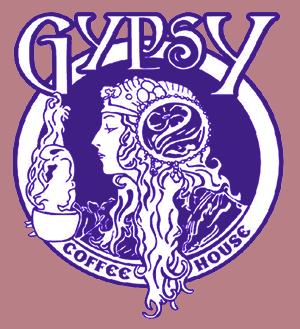 I couldn't think of a better place to hold this sort of event than my favourite coffee house in Tulsa, the Gypsy Coffee House. I've been going to the Gypsy since 2002, and I love the place.
The Gypsy is a rarity these days: A long-lasting business, run locally and independently. It's got a great atmosphere and I've had a lot of terrific memories there.
I've hosted a lot of DJ events at the Gypsy in the past: Mary Kate + Ashley Turn 18 (2004), Halloween in August (2004), Hallowmania (2004), Retro Without Shame (2005), and the Depeche Mode Album Release Party (2009).
Even though it's been fun offering dance-oriented events at the Gypsy, I've wanted to try something completely different there - something a bit more suitable to the way the environment at the Gypsy has evolved.
That's why I felt that the first chilloutdj.com event should be a special event at the Gypsy itself: The atmosphere there coincides well with the spirit of chilloutdj.com... laid back, friendly, and full of ambience.
Great food and drinks!
The Gypsy features a wide range of terrific food and drink options. My recommendations are the Jailhouse Three-Cheese sandwich (melted), the incredible spicy hot chocolate, and the coconut creme soda with extra coconut (which I've been lobbying to have specially added to the menu as the "Badger Soda.")
There is no alcohol at the Gypsy (sorry), but it is "stumbling distance" from some of downtown's finest drinking establishments, including Caz's and the Hunt Club.
So where is the Gypsy?
The Gypsy Coffee House is located at 303 N Cincinatti in the Brady Arts District of Downtown Tulsa. The easiest way to describe it to anyone familiar with Downtown Tulsa would be "It's behind Spaghetti Warehouse."
Here's an easy map to the Gypsy I whipped up a while back:
You can also follow this link to the Google Maps entry for the Gypsy.
[Gypsy logo ©2010 Gypsy Coffee House. All rights reserved.]