Entry Forty-Seven.
Sunday, 2007.04.29, 11:55 AM CST.
RECIPE TIME with Badger!
Ever feel depressed? Oh, I know I do. Here's a magic little recipe I conjured up a few weeks back to help combat those wacky depressive blues. Enjoy!
THE DJ BADGER
ICY RICY DEPRESSION SUNDAE™
For this dish, you will need the following:
Vanilla ice cream (preferably French Vanilla or "Freedom Vanilla").
General Mills Rice Chex® Cereal.
Milk (real milk, not that watery "skim milk" crap. Soy milk may be substituted, though.)
Raw sugar (i.e., Sugar in the Raw® or Hain® turbinado sugar).
(White "processed" sugar will NOT work.)
A cereal bowl.
Step 1:
Put some vanilla ice cream into the bowl. The amount of ice cream should be vaguely proportional to the level of depression you're feeling at the time.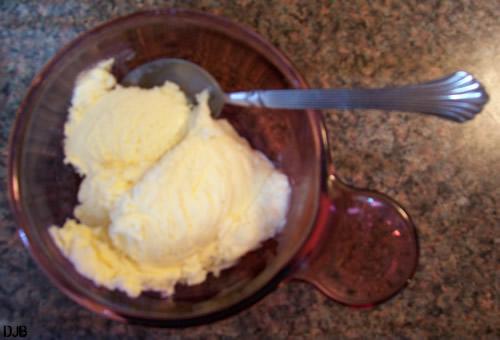 Step 2:
Cover the ice cream with wholesome, nutritious Rice Chex® Cereal.
Step 3:
Pour milk on top, making sure to hit every Rice Chex® square along the way.
Step 4:
Garnish generously with raw sugar.
Step 5:
DEVOUR.
That's all there is to it! It's hard to believe that something so simple can help so much along the path to a happier, more well-balanced YOU!
Enjoy!
Badger
(Warning/Disclaimer: Consuming too many DJ Badger Icy Ricy Depression Sundaes™ within a short period of time may gradually transform you into a tremendous fatass.)