Entry Ninety-Nine.
Thursday, 2009.08.20, 11:38 AM CST.
True Faith afterthoughts, a trip to Kansas City, John Hughes, and Uncle Zeb.
I honestly hadn't realized so much time had passed since my last update. Sorry about the delay... Things have been hectic and tiring, but I'm doing okay. I still have a lot of stuff I'm "working on." More will be revealed soon.
TRUE FAITH.
Before anything else, I want to thank everyone who came to the "True Faith" event I co-DJed on July 31st.
Despite my lengthy experience in various parts of the industry, I couldn't help being nervous about my first major club appearance, and luckily things went well, for the most part. Technically, I think I did well, though the bass was causing feedback in my turntables - an issue I had not experienced since my much earlier days before I got a proper (heavy) pair of Technics SL-1200s. Still, I soldiered through it and performed. I already have a solution in the works for the next time I DJ in such excessively bass-heavy conditions.
As far as my music choices were concerned, I was quite pleased. My sets featured some really rare mixes that I had never played at any gigs ever before, and offered a decent mixture of well-known classic club tracks and a few more obscure tracks (like Moev's "Crucify Me"). And, of course, I mixed in a significant amount of New Order and Cure tracks, as per the theme.
CLICK HERE FOR THE TRACKLISTS OF MY THREE "TRUE FAITH" SETS!
To those who did show up, I want to offer an apology for not being able to "mingle" more than expected. Since there were three DJs performing with 45-minute shifts, I had thought we were each playing for 45 minutes at a time. Instead, one of my co-DJs decided to skip his first shift because he wanted to "socialize." Then, following my second set, he only played two songs before passing the reins back to me, stating that the bass was interfering with the software he was using. So, I was actually on stage a lot longer than I expected. For those who were hoping to chat with me a bit more during the event, I'm sorry.
Following True Faith, I have no plans to DJ for at least a couple of months. Stay tuned, though... and keep your calendars clear for the 14th of November. I'll have HUGE news coming very, very soon.
KANSAS CITY.
July was a busy month. For her birthday, my wife wanted to go see Tori Amos perform live in Kansas City. So, we headed up on July 23rd. It was a decent show (I used to love Tori Amos in the early-to-mid 1990s, but now I just tend to find her somewhat entertaining), and there were some nice highlights, including great new versions of classics like "Precious Things" and "Icicle." Quite good.
While we were in Kansas City, specifically in the Overland Park area, we stopped at a nice little Indian place called Korma Sutra. Yes, the place was actually called Korma Sutra ("Sensuous Cuisine of India"). We tried the lunch buffet there, and Lanna said that it was some of the best Indian food she'd ever had. Personally, I thought it was good, though when it comes to Indian food, I still prefer Kolam in Tulsa. Nevertheless, I ended up eating so much that I quite literally made myself sick, just in time for the long drive home.
In case anyone doesn't believe that anyone out there would name a restaurant "Korma Sutra," here's the menu: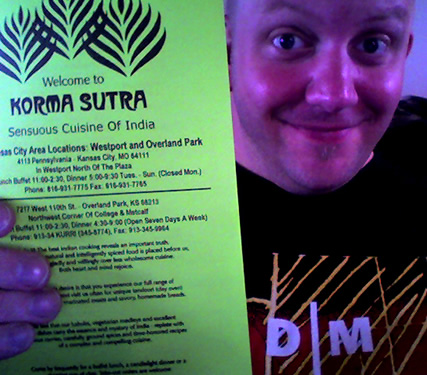 The trip was not without its perils, though. On the way up to Kansas City, my car's right rear tire went flat. So, I popped on the donut and continued the journey.
Then, when we got to the Motel 6 (where, per my misguided encouragement, Lanna had reserved a room for us), we found that it was in an absolutely horrid, squalid ghetto section of town in which we both agreed we ran a severe risk of getting shot and/or shanked.
While on the way to the venue three miles away, I took a wrong turn and ended up driving down a street on which (I'm pretty sure) we saw genuine drug dealers running back and forth to their customers' cars. That was festive and culturally enlightening! On second thought, it was just scary.
After the concert, we never went back to the Motel 6. All of our stuff was still in the car, so I sprang for a different hotel - the Red Roof Inn in Overland Park. Much, much better. (The next day, we discovered Overland Park's Korma Sutra, as noted above.)
Then, on the way back to Oklahoma, while we were in the proverbial middle of nowhere, the donut replacing the right rear tire started going flat. We managed to hobble the car into a tiny backwoods town, at which a lady at a combination convenience/liquor store helped me find the local mechanic.
A gentleman named James Akes - an absolute prince among men as far as I'm concerned - helped us with the tire situation quickly, courteously, and at a reasonable price. Even though Lanna and I were obviously "city slickers" far our of our element, James made us feel extremely comfortable and welcome. Awesome guy. If you are ever in eastern Kansas (specifically, near the township of Greeley) and need service on your car, go see James at Eastern Kansas Equipment + Sales.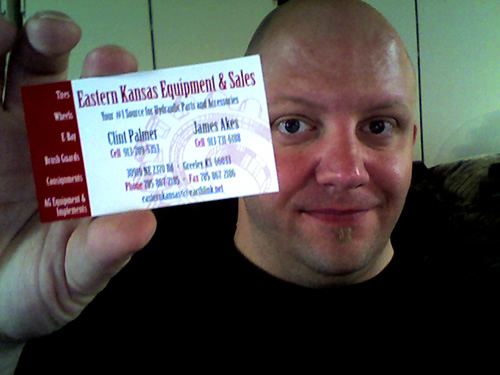 SO LONG, JOHN HUGHES.
The reaper continues to keep himself busy.
Two weeks ago today, on August 6th, we lost a great American filmwriter and director, John Hughes. Among the movies he wrote and/or directed were such classics as Ferris Beuller's Day Off (my third favourite film of all time), The Breakfast Club, Pretty in Pink, Sixteen Candles, Weird Science, Planes, Trains + Automobiles, Some Kind of Wonderful, National Lampoon's Vacation, Uncle Buck, Home Alone, Career Opportunities, and the quite-underrated Dutch. (He also wrote the Beethoven films, but I'll forgive him for that.)
Hughe's films served as the cinematic voice of a generation. The corresponding soundtracks served to present some of the most memorable pop and new wave classics of the 1980s. (After all, who among those of us who grew up in the 80s can hear Simple Minds' "Don't You (Forget About Me)" or OMD's "If You Leave" and not think of The Breakfast Club or Pretty in Pink, respectively?)
According to what I've heard, Hughes died of a heart attack while taking a morning stroll around Manhattan. Following the losses of Michael Jackson and Ed McMahon (see my previous Journal Entry), this hits really hard. Another chunk of my youth, gone away. At least his films will still be around for future generations to enjoy; I look forward to showing a number of them to X when he is old enough.
FAREWELL, UNCLE ZEB.
On an even more personal and local note, two days ago, we lost a Tulsa-area television legend. Carl Bartholomew, known to countless Oklahomans as "Uncle Zeb," passed away two days ago, August 18th.
For those who were not familiar, "Uncle Zeb's Cartoon Camp" was a local children's show; I remember it from its original run on KTUL (Tulsa's VHF channel 8) from 1969-1979. (For the record, I wasn't even born when it started - I'm not quite that old!).
"Zeb" was a character Bartholomew portrayed as a grizzled and gruff old prospector. He would have a group of boys and girls on the show each weekday, show some old cartoons, pick some childrens to play some games and win some prizes, and then let each kid get in front of the camera at the end and say hello to all the people they loved "back home."
I remember looking forward to seeing it every day, and occasionally seeing kids I knew from my school on there. I personally never got to go on the show, but I did get to meet Bartholomew at the Tulsa State Fair when I was 8 or 9 or so. He seemed nice (well, that was his job), and autographed a picture for me. I still have that picture somewhere.
I didn't realize until recently that "Uncle Zeb" also had a long lifespan on Tulsa Cable. The newer series ran from 1990-1997. Apparently, my wife's brother attended one of those episodes. I had no idea the show had gone on that long. There will never be anything that fully captures the spirit and goofy, low-tech fun that children enjoyed on "Uncle Zeb's Cartoon Camp."
Rest in peace, Uncle Zeb. Rest in peace.
Next up... Journal Entry 100! Stay tuned. It's coming soon.
Badger