Entry One Hundred Five.
Friday, 2009.09.11, 9:50 PM CST.
MASSIVE News - DJing at Assimilation Depeche Mode Tribute Night, 11-14!
Current Mood: A little tired. Current Scent: What About Adam by Joop!.
Lanna, X and I just returned from dinner at Be Le with a couple of friends. It was realy wonderful, and the staff and owner there are incredibly nice people. The food was phenomenal and 100% vegetarian. Good times all around.
I have really big-time news about a forthcoming event in November. I've known about it for a little while, but the news became "official" within the last week or so, and the flyer design has finally been completed.
THE BIG NEWS...
On Saturday, November 14th, Re:Mission Entertainment will be presenting Assimilation's Depeche Mode Tribute Night.
They have asked ME to be a special guest DJ for the event!!! Holy crap!
I'll be DJing alongside DJ Bone!!, DJ Sokmonkey, and DJ Diverse.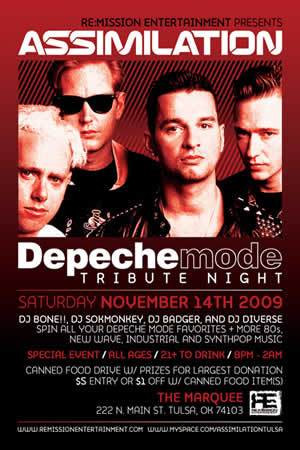 Now, I know what a lot of you are thinking: "Badger, didn't you host/DJ your own Depeche Mode night at the Gypsy Coffee House earlier this year?" That is correct - it was a Depeche Mode album release party, and it was fun. This will be very different, however, in a number of ways:
At this event, the other DJs and I will be playing more than just Depeche Mode. We'll be focusing on DM tracks (I plan on composing at least 50% of my set of DM tracks), but there'll be other music played as well - in the retro, electronic, industrial, and goth veins.

This event won't be free, but it'll be close. The cover charge is only five bucks - that's dirt cheap! If you bring at least one canned food item, it'll be just FOUR bucks! Even cheaper than dirt cheap!

You can DRINK at this one! Boo-yah! (This will be an all-ages event, but obviously you'll need to be 21 to drink.)

Considering Assimilation's significant following, this event will probably have a much larger turnout - which means an even BIGGER party with even MORE dancing than I had at my event!
This will be held at the Marquee, the same place at which I DJed at the "True Faith" event in July. (However, as opposed to "True Faith," I'm pretty sure all the DJs at this one will be playing more than TWO SONGS. Heh heh.)
Of course, like I've done before, I plan on digging into my vaults and playing some really tough-to-find remixes. And... I have at least one BIG surprise in store for the Depeche Mode fans that make it to this night, but I can't say it yet. I don't want to jinx it.
So, those of you who enjoy my DJing and/or those of you who love Depeche Mode should mark down November 14th on your calendar right away. I want to see a massive turnout at this extremely special night!
So, there's one big chunk of news. But, it's not the ONLY big news I plan on revealing this month.
Stay tuned. :)
Badger