Entry One Hundred Thirty-Four.
Thursday, 2011.03.17, 3:37 PM CST.
The 25th anniversary of Black Celebration.
Current Mood: Not the happiest in the world. Current scent: Rococo by Joop!.
Aaaaaaaaaaaannd... I'm back.
Well, it's been a while, hasn't it?
I had a few technical difficulties that kept me from posting until now, plus I've had some depression issues (again) that have kept me from really feeling much ambition. But, I haven't given up yet... I've got a lot more living to do.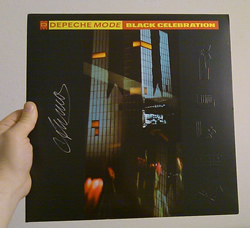 Today is the 25th anniversary of the release of Depeche Mode's 1986 album Black Celebration, considered by many Depeche Mode's fans (including myself) to be their best album.
The 1986 release contained three singles that didn't receive a ton of immediate commercial success, but have since become favourites among many long-time Mode fans: "Stripped" (one of my all-time favourite DM tracks), the phenomenal "A Question of Time," and "A Question of Lust," a revered ballad with Martin Gore on lead vocals.
The great tracks on Black Celebration don't stop with just the singles, though. The opening title track is incredible - a plea for the listener to "celebrate the fact that we've seen the back of another black day." (That's a feeling with which I can certainly relate.) That's followed by "Fly on the Windscreen" (Final), a remix of the fantastic B-side from the 1985 "It's Called A Heart" single.
Other notable inclusions are the the darkly romantic "Here Is the House" and "Dressed in Black," along with "World Full of Nothing" - a sobering and bleak ballad about a desperate young couple hooking up not because they love each other or trust each other, but simply because "though it's not love, it means something."
Capping off the album is the hammering dance track "New Dress," which offers a laundry list of horrible things going wrong with the world (a husband murdering his wife, bomb blast victims fighting for life, and a 13-year-old girl being attacked with a knife - all of those just from the first verse), capped off with what would be the "big story" of the day: "Princess Di is wearing a new dress."
Even one of the B-sides from the album became a huge fan favourite over the years: The song "But Not Tonight," the phenomenal B-side of "Stripped." (There's a whole long story about the US record company putting that onto the A-side of the American single, as well as some of the releases of the Black Celebration album, causing lots of confusion and issues and whatnot... but I won't get into all of that here.)
Even though it was released the year before I really started collecting Depeche Mode's work, Black Celebration soon became my favourite DM album, and to this day I still consider it one of the greatest albums ever released by any artist.
It's just so, so hard to believe that it was released 25 years ago. Amazing.
More soon.
Badger
(By the way... If you're wondering about the silver "writing" seen on the left side of the record cover... that's an autograph that I got when I had the opportunity to meet one Mr. Alan Charles Wilder last October!!! It was awesome and he was an incredibly friendly fellow. Yes, I plan on giving details about that meeting here in the News/Journal pages very soon.)