Entry One Hundred Thirty-Seven.
Friday, 2011.04.01, 10:34 AM CST.
Is it 1983 again? No; that's just the new Duran Duran album.
Current Mood: Not the greatest, but I've had worse. Current scent: None.
The new Duran Duran album is probably going to end up being my album of the year.
There. I've said it... and it's only April. (I also assure you that it's not an April Fool's joke.)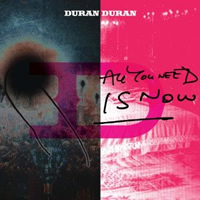 For those of you who didn't know - and I'm betting that's a considerable number of you - Duran Duran released part of a new album, All You Need Is Now, digitally last year. Last month, they released the completed album in its physical form on CD. Of course, I held out for the CD, and I was fortunate enough to participate in a special Newbury Comics presale that allowed me to order one with an CD booklet autographed by all four current members (Simon, Nick, John and Roger).
The album is fantastic... but I need to get back to that in a few.
(If you want to spare yourself some history and head straight to the album review, scroll down to "WHY the New Album Is So Insanely Good.")
I Was A Teenage Duran Duran Fan.
Now, a lot of you know me as a Depeche Mode freak. Well, back in 1986, a year before I ever got my very first Depeche Mode album, I went all wacky about Duran Duran. I had found a copy of the Arcadia (DD side project) album So Red the Rose (on cassette!) at TG&Y priced for clearance, and I thought it was magnificent. I think I also found a cheap copy of the Duran Duran live album Arena (also on cassette) and played that like it was going out of style.
It didn't help that I had a crush on a young lady who was a big Duran Duran fan. Soon, I'd picked up all of their albums on cassette up to that point, from their original self-titled album (best known for "Girls on Film") to 1986's Notorious (best known for, um, "Notorious").
As time went by, DD released more music, and I kept buying it. I found out about their back catalogue of remixes and bought as many of the old 12" singles as I could. The 1988 album Big Thing (the one with "I Don't Want Your Love" and "All She Wants Is") was quite good, though unfairly maligned because they were breaking more and more away from their original sound. I loved 1990's Liberty (the one including the not-so-well-known "Violence of Summer"), though it's definitely not a favourite among a lot of DD fans. Heck, Liberty formed a good chunk of the soundtrack for my earliest days at Tulsa University.
Unfortunately, in my world, DD was getting more and more overshadowed by Depeche Mode. DD released Big Thing the year after DM released Music for the Masses. Liberty was released the same year as DM's iconic Violator. Duran Duran's less-than-stellar 1993 self-titled album, also known to fans as "the wedding album" due to its cover, came out right around the same time as Depeche Mode's groundbreaking Songs of Faith and Devotion.
By the time that Duran Duran released their almost-all-covers album, 1995's Thank You, I felt that they and I had parted ways. I have yet to pick up Thank You. I also never bought 1997's Medazzaland (though I did get plenty of remixes of the single "Electric Barbarella"), nor did I purchase 2000's Pop Trash. I'd heard that they just weren't that good, and I felt that I'd outgrown Duran Duran.
In 2004, Duran Duran released Astronaut - an album that was considered a really big deal because, for the first time since the mid-1980s, ALL FIVE original members of the group were back together. I picked up the deluxed two-disc edition of Astronaut, only to find that it kinda sucked. It just didn't have the spirit that I had expected from Duran Duran, and I was really hoping for stuff that sounded like the Duran Duran I knew... the Duran Duran from the 1980s.
In 2007, Duran Duran released Red Carpet Massacre, and after hearing the track "Nite-Runner" from it, I didn't even bother. The Duran Duran I once knew was gone forever, it seemed.
So, for several years, if I talked about bands that I really liked, I would occasionally mention Duran Duran, but usually with the disclaimer: "I like old Duran Duran."
WHY the New Album Is So Insanely Good.
I first heard about the new album when Duran Duran released the single, "All You Need Is Now," last year. I watched the video and I was stunned: This was good. Was it "Rio" or "The Reflex" or even "All She Wants Is" good? Well, no, but this was still a marked improvement.
I was still skeptical, though... This was still "new" Duran Duran, and the odds were good that the rest of the album was destined to blow, and I probably wasn't going to buy it.
Then, Newbury Comics offered the possibility of an autographed CD booklet for people who preordered the album, and I gladly pre-ordered the 2-disc deluxe set for that reason, not realizing that the album was actually going to be a masterpiece.
In the meantime, my wife and I went to see Duran Duran live on March 18th - amazingly enough, at the Winstar World Casino in Thackerville, Oklahoma. That's right. Thackerville. The show was extremely impressive, but the CD didn't get released until four days later... and I didn't receive my copy in the mail until three days after that (last Friday). I was blown away.
THE NEW ALBUM SOUNDS LIKE A BUNCH OF NEW SONGS... FROM ABOUT 1983.
That's what makes it so awesome. It "sounds like a Duran Duran album." It sounds like a Duran Duran album by the Duran Duran I remember - not some kind of experimental quasi-funk album. No rapping. No production by Timbaland. No bullshit.
Not counting the two instrumental string-based interludes (which are both beautiful and based on the title track), the album is full of great songs built of sounds that mostly could have come straight out of the tracks on Rio or Seven + the Ragged Tiger or the debut album.
Here's a breakdown of every song on All You Need Is Now:
"All You Need Is Now" - The title track is a bit of an exception. Musically, it sounds like something that might have come from Big Thing. Maybe. The vocals, at times, sound like something that could have fit right into Seven + the Ragged Tiger with no problem. It's a good opening track and a great leading single for the album.
.
"Blame the Machines" has a rhythm track and bassline that could have come from the debut album or Rio. It's not as traditional as some of the others, but it's definitely got the sound down.
.
"Being Followed" is classic Duran Duran. Vocally, one can trace it back to "Shadows on Your Side" and "Is There Something I Should Know." Music-wise, it's a lot like "Girls on Film." It's one of my favourite fast songs on the album, and it would have fit in extremely well on Seven + the Ragged Tiger.
.
"Leave a Light On" is a gorgeous ballad, with a melody that reminds me a bit of their song "Out of My Mind" (from the soundtrack of The Saint). The most obvious correlations, however, can be made to the classic Rio track, "Save a Prayer." This is one of my absolute favourites on the album.
.
"Safe (in the Heat of the Moment)" is pure Duran Duran party sleaze, with guest vocals by Ana Matronic of the Scissor Sisters. It has sounds that are reminiscent of "My Own Way," with a little bit of the Liberty album thrown in.
.
"Girl Panic!" is a lot of fun. It's got the same familiar "Girls-on-Film"-like rhythm, and a great chorus. The song is a lot better than the title would imply.
.
"A Diamond in the Mind" is the first of the two brief string-based interludes. Nice.
.
"The Man Who Stole A Leopard" took a couple of times to really grow on me, but now I really enjoy it. It has a plinky synth line reminiscent of "The Chauffeur," plus a few sounds that actually remind me of Kraftwerk! It has Kelis in it - but she just does background vocals, so she doesn't ruin the track. In fact, I had heard the track numerous times before remembering that Kelis was even involved.
.
"Other People's Lives" reminds me a bit of "Planet Earth" from the debut album, and it has a bassline that sounds somewhat like the bass riff from Madonna's "Material Girl." Plus, it has the words "glory hole confessional" in the lyrics. Ha ha! It's a fun track.
.
"Meditteranea" just might be my favourite song on the whole album. Laid-back, latin-tinged, and seductive. Lyrically, it's absolutely beautiful. Along with "Leave a Light On" and "Before the Rain," it's one of the three big panty-droppers on the album. Like "Leave a Light On," this one has heavy correlations with "Save a Prayer." I can also catch the feeling of the Arcadia track "El Diablo" in there. It's brilliant.
.
"Too Bad You're So Beautiful" might be my least favourite on the album, but it's still not a bad song. It is yet another that reminds me a bit of "Planet Earth" in its overall delivery.
.
"Runway Runaway" has sounds that can be traced back to "Hold Back the Rain" from Rio, plus it has a guitar riff that reminds me just a tad of the Police. It's not a fantastic song, but still decent.
.
"Return To Now" is the second classical string interlude, and the better of the two. It serves very well to bring in "Before the Rain."
.
"Before the Rain" closes the regular edition of the album, and it is a great closer. It's probably my second-favourite song on the album, next to "Meditteranea." This is like a follow-up to "The Chauffeur," including a rhythm track that sounds just like a reworked version of the "Chauffeur" percussion. Slow, string-backed, dark, melodic, and thought-provoking, "Before the Rain" is spectacular on an overall basis.

However, I have one little problem with it, located in this block of lyrics: "little pinpricks/and how my ears bleed/on the bomb ticks/that is my heartbeat..."

I realize it can be tricky to deal with the whole plural-to-singular issue between "ticks" and "heartbeat," but hearing "bomb ticks that is my heartbeat" just makes me cringe.

Despite that, "Before the Rain" is still amazing.
.
"Networker Nation" is a bonus track on the US CD/DVD 2-disc set. It's pretty good; even though it's a "bonus," it's not just a throwaway track. It's fast, rock-tinged, and fun. If you listen to the little vocal chant in the song, you might be able to correlate it with the "doo-doo-doo" bits in the verses of Rio's big hit, "Hungry Like the Wolf."
(Note: Best Buy [whom I hate] also released an "exclusive" version of the CD/DVD set with two more bonus tracks, "Too Close To the Sun" and "Early Summer Nerves." It's not the easiest version to find, and I bought a copy two days ago for about fourteen bucks just to get the two extras. Unless you're a hardcore DD collector, I don't recommend going to the trouble to find this version. The two added tracks are really not that good... and Simon tries to reach levels of falsetto that he should never attempt. I recommend just tracking down the standard US CD/DVD edition.)
In my next post, I'll write about my adventure to see Duran Duran perform live for the first time, in Thackerville, Oklahoma.
Yes, Thackerville.
Badger