Entry One Hundred Forty.
Thursday, 2011.06.09, 11:40 AM CST.
A Totally 80s Dance Party - One of the most successful performances of my career!
Current Mood: Prolific from a writing standpoint, but prone to procrastination from all other standpoints..
Current Scent: Eternity by Calvin Klein.
This is one of those subjects about which I've kept meaning to post here, but I just hadn't gotten around to it. I had posted plenty of information about it on my Facebook page earlier this year, though.
Earlier this year, I was invited by DJ Infam0us (a friend and colleague I've known for a year or two) to perform at a special 1980s night he was hosting on February 25th at a venue called Teatro Scarpino in Fayetteville, Arkansas.
Even though I'd been DJing for over 20 years, I had somehow never DJed outside of Oklahoma. So, this was a "first" in that respect.
Infam0us told me that he'd be DJing along with me, as well as another longtime DJ I didn't know named DJ Spiff. Then, as we got closer to the date, I was asked if I'd like to do the last performance of the three - essentially, to "headline" it. Obviously, I jumped at the chance.
Of the three, I was scheduled to be the only DJ using vinyl records that night, and I rounded up some of the rarest 80s remixes in my collection for this performance. Overall, this was an intriguing and fun proposition, but as with any "new" type of situation, I was apprehensive.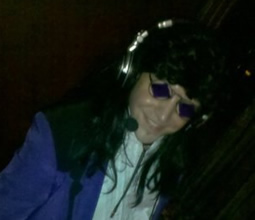 The night of the event came, and I set up my equipment and got some early discussion in with Infam0us and Spiff. It was really cool and reminded me a lot of my earlier days in the industry. I got dressed up in a sweet purple jacket I'd had since way back in the day, plus matching purple shades, a bolo tie, and an obnoxious-but-funny black wig. (Strangely enough, the wig and shades made my face look a little like Joey Ramone when Infam0us snapped a picture of me.)
I'm happy to report that the event went swimmingly. Beyond swimmingly, actually. It was the most successful session of all-out HOUSE ROCKAGE that I had administered, anywhere, in years.
Following DJ Spiff's set - which was well-mixed but unfortunately set to a pre-scheduled tracklist (thus, no requests allowed in his set) - I went up and started my set with the most kickass old-school remix of Shannon's "Let the Music Play" that I had in my arsenal.
BOOM. I had them. The crowd had already been suitably warmed-up by Infam0us and Spiff (along with a few drinks, which didn't hurt), and I took them through what was arguably the greatest retro set that I'd ever spun together. I worked in some requests for Madonna and Newcleus early in, and that had the dance floor pumping. From there: Beastie Boys, the J. Geils Band (YES!), Bobby Brown, and "Pump Up the Volume." It went on and on through a massive 27-track set, almost completely played from genuine vinyl. (Full setlist here). My mixing was on-point and the crowd went nuts. By the end of the evening, I was dripping in sweat (especially thanks to that wig), and I was absolutely thrilled.
Although I'm confident in my DJ abilities, this event really reinforced my belief that I've got plenty of good gigs ahead of me. It felt great to be back in front of an audience, entertaining a crowd that genuinely appreciated and enjoyed the performance. It was a wonderful experience.
I want to express my major thanks to DJ Infam0us, DJ Spiff, the staff of Teatro Scarpino, and everyone who chose to show up (many of them in 1980s garb as well!) and bust a move with us on that spectacular February night. I had a blast and I hope to perform in Fayetteville again very, very soon.
More later!
Badger