Entry One Hundred Fifty-Nine.
Sunday, 2012.09.16, 10:31 AM CST.
I'm DJing again, October 19th. "The Great Gypsy Chillout 2" is coming!
Current Mood: Overall, not the greatest... but enthusiastic about GGC2.
Current Scent: Vendetta by Valentino.
Hello, everyone.
Well, it's been a little while since my last performance back in June... and now I'm very pleased to present another performance, this time back at the Gypsy Coffee House in the Brady Arts District of Tulsa.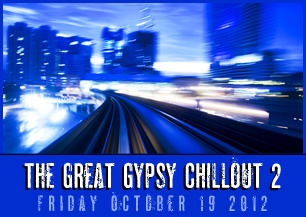 "The Great Gypsy Chillout 2" will take place on Friday, October 19th, starting at 9:00 PM.
It will feature plenty of different chillout-oriented tracks, varying from trip-hop to nu-jazz to ambient to other downtempo electronica.
It is not a dance party... unless you're a stripper, or a belly dancer, or a drunk chick who wants to dance like a stripper or a belly dancer. This is more of a easy-going get-together, where the music's not too loud or too fast. I won't be doing a lot of crazy mixing or trying to blow anyone's mind. It'll just be fun.
Of course, the track selection will be quite reminiscent of the stuff played at 2010's Great Gypsy Chillout... and of the laid-back music that I played back during my residency at the 3316 Bistro in the Brookside area.
The "GGC2" is especially exciting for me because it's the first time I've ever presented a "sequel" to one of my own events. (Years ago, I had considered doing a follow-up to 1995's "Retro Without Shame," but that obviously never came to fruition.)
For more details, please visit the Great Gypsy Chillout 2 mini-site.
Thanks very much, and I hope to see lots of you there!

Badger