Entry One Hundred Seventy-One.
Tuesday, 2013.09.28, 12:51 PM CST.
Depeche Mode concert #8 (Houston/Woodlands) and a patched-up friendship.
Current Mood: A little tired.
Current Scent: Visit by Azzaro.
Well, things have been nuts around here. I've been trying to enjoy a week without many major obligations... but last week was insane, by design, and I feel like I'm still recovering!
As many of you know, I'm a HUGE Depeche Mode fan, and I've been all kinds of crazy about their latest album, Delta Machine. Following 2009's lackluster Sounds of the Universe and its rather awful tour, I wasn't sure how their next work would turn out. DM really impressed me with Delta Machine - especially the tracks "Alone" and "Secret To the End," which both became staples of my mental soundtrack for 2013.
As happy as I was with the album, I couldn't get over a crazy feeling I had: This would be Depeche Mode's last tour. They never announced it or anything, but following the myriad of health problems Dave Gahan had during the "Tour of the Universe," I figured that this new tour just couldn't bode well for him.
So, I decided that for the first time ever, I would try to see them perform twice during the same leg of a tour - for my eighth and ninth times, in Houston and in Dallas.
ARRANGING AN IMPOSSIBLE TRIP...
Okay, so I'm going to stop that story and refer to another one.
Twenty-three years ago this month, Depeche Mode released the single "World in My Eyes." Three years ago, I wrote an entire blog post about the twentieth anniversary of that song, as well as a story about an unnamed old friend (important note: NOT an ex-girlfriend) of mine from TU at the time, with whom I had quite willingly lost touch after a massive falling-out in 1993.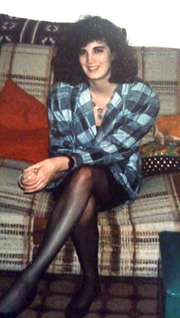 Tiff in late 1990/early 1991.
Her name was Tiff. In late 2011, our online lives crossed paths, and we did a bit of catching up. She now lived about a thousand miles away. I was now married with two kids, as was she. We were both still Depeche Mode freaks, and we'd both gotten considerably older and wiser over the years.
We chatted intermittently off and on for about a year before Depeche Mode released the preview track for the Delta Machine album, "Angel." I heard it, I went nuts about it, I sent her a link to the video, and we started talking about DM like old times. (This was someone with whom I used to have entire conversations about things like the different ways that Martin Gore sang the single word "tenderly" during various DM tours.)
When the new tour was announced, Tiff was one of a few different people that I mentally "juggled around" in my head as someone I could take to see DM in Houston. We both agreed that it was laughable. Certainly her husband or my wife would object, and even if so, how would we arrange this whole thing?
Somehow, it happened. My wife Lanna, miraculously, gave the green light, as did Tiff's husband.
REPAIRING A FRIENDSHIP...
Tiff flew in on September 17th, and I showed her how much Tulsa had grown since she had left twenty years ago. I showed her the insane (and, in some ways, destructive) expansion of the University of Tulsa, and how much development had occurred around 81st + Yale where she used to live. For her first lunch here, she got to try the amazingness of Mario's Pizza.
That evening, I took her out to the Brook (home of the best cheese fries in Tulsa) for dinner with my wife Lanna and our two sons. My six-year-old, X, appeared somewhat smitten with Tiff, constantly asking her to draw with him and play games like Rock-Paper-Scissors-Lizard Spock. It was cute.

Something that could never happen, yet it did:
Tiff and I seeing Depeche Mode in concert, 2013.
The next day, Tiff and I departed for Houston in a rented Chevy Cruze.
When you stick two people into a car for over fifteen total hours (round-trip), they're probably going to do a lot of talking. Indeed, a lot of talking was done, a few tears were shed, and we managed to break down a lot of the issues we'd had that had all-but-destroyed the friendship twenty years ago.
We stopped in Dallas to have lunch at the Blue Mesa Grill (damn fine food), then booked it to Houston, arriving in plenty of time for the show.
I won't go into the track-by-track details here (you'll see those soon), but it was a GREAT concert with a few decent surprises - much, MUCH better than DM's 2009 "Tour of the Universe." I actually wore the exact same Music for the Masses T-shirt that had prompted her to speak to me for the first time in the Twin West computer lab in 1990. (See the picture and keep in mind that I don't just mean "the same design" - this was the exact same shirt. The secret to keeping T-shirts looking awesome is trying your best to never put them in the dryer.)
The next day, I drove us back to Tulsa, and the day after that, Tiff flew back to Virginia while I drove Lanna and X to see Depeche Mode perform at their next stop in Dallas.
It wasn't until a few days afterward that I realized that our reunion in September 17th was very likely on the exact twenty-three-year anniversary of that first time that we met in 1990. What an amazing coincidence!
Even the moon over the Cynthia Woods Mitchell Pavilion was absolutely spectacular.
It's important to note that even though I originally thought this was a full moon, my
old friend Pennsy (aka "
Little Miss 80s
") informed me that it was a "waxing gibbous."
WHOOPS!
In conclusion... This was a really amazing trip, and I was extremely lucky to have been able to take it. It taught me a bit about the power of forgiveness and the strength that a friendship can endure... even after eighteen years of silence.
If you have any friends that you've parted ways with, unless they've passed away or the reason for the resentment was a crime so heinous that it was simply unforgivable... you should do what you can to make amends. Life's too short to hold unnecessary grudges, and odds are you'll both feel better if you just talk about it a while.
Massive thanks go out to my incredible wife Lanna, my sons X and Atticus, my fantastic sister-in-law Lissa for handling crucial babysitting duties, Tiff and her husband Matt, United Airlines, Enterprise Rent-A-Car (a hell of a lot better than Dollar/Thrifty, who SUCK ASS), La Quinta Inn + Suites, Blue Mesa Grill, the Brook Restaurant + Bar, Mario's NY Style Pizzeria, the Cynthia Woods Mitchell Pavilion, and of course the gents in Depeche Mode, except for Fletch.
More soon.
Badger