Entry One Hundred Eighty-Three.
Sunday, 2014.06.23, 12:52 PM CST.
Big thanks to my wife. A personal family crisis. Mobile DJ company still in the works.
Current Mood: Victorious from Saturday, but saddened for the immediate future.
Current Scent: Messe de Minuit by Etro.
Long ago - maybe twenty-five years or so - my dad told me a story about the legendary comedian Red Skelton. Skelton was a fixture on TV for a long time, and according to the story, his son died the same day that he was scheduled to film an episode of one of his shows in front of a live studio audience.

Allegedly, Skelton went ahead to work afterward and did the show, making people laugh all the way through, then made the announcement about his son at the end, noting that he wanted people to enjoy themselves like they were supposed to without having to dwell on his actual sorrow the entire time.
I can't find any evidence that the story is true. I'm pretty sure it's not.
However, that story has stuck with me, and I understand its message... if you're going to entertain someone, don't feed them your misery first, no matter how great the misery may be.
"BACK TO THE PROM" WENT WELL.
Last Saturday , I performed at Taylor Stanbro's "Back to the Prom." It went GREAT. With the help of my friends Drew Bruce (aka Andrew Michael, aka D-BAM) and photographer Brittany Murphy, I was able to put on a great show for Taylor and her friends. I'll tell you more soon, but I was extremely happy with it overall, and I'm thrilled to have been able to be a part of it.
As you probably noticed in my last two blog entries here, I was all thrilled that this would mark my return to the mobile DJ world... and it did, kind of. It was a good "trial run" for the new company. We had a terrific light show and a great set of music which ranged from a lot of 80s tracks and a few 90s tracks (as requested by Taylor and her friends) to a lot of the latest hits. (I'll try to post the full setlist along with the next blog entry.)
It went really, really well.
A BIG ISSUE AT HOME.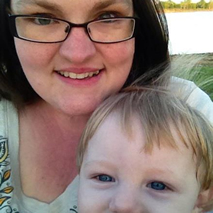 Unfortunately, behind the scenes, my family was undergoing a bit of a crisis, which I haven't mentioned until now on my website or the DJ Badger Facebook page.
The lady in the picture to the right, with my awesome son Atticus, is my wife, Lanna. We've been married for about seven and a half years, and we've been together for nearly ten years. She means more to me than words could properly describe.
Lanna's mother was diagnosed with cancer a few weeks ago. She's been in the hospital for most of that time, and her condition has deteriorated surprisingly quickly. She was placed in hospice care late last week. Unfortunately, my mother-in-law is now losing the battle and doesn't appear to have much time left.
Lanna knows how much I love music and DJing. She also knows how much it means to me that I keep my word with my clients.
So, we agreed that I would not be dropping "Back to the Prom" under practically any circumstances. I wouldn't want to back out of any scheduled performance, but this was an extra-special case because Taylor Stanbro had already gotten screwed over at her original prom, and I certainly didn't want her and her friends to feel any further disappointment.
I accompanied her to the hospital a couple of times, but most of the time I would stay at home watching over X and Atticus while she was at the hospital with her family. This kept the kids from getting bored and cranky, and it also allowed me to intermittently concentrate on getting ready for "Back to the Prom" - arranging music, testing light effects, etc.
On Saturday afternoon and night, Lanna stayed at home and watched the kids while I headed to Chelsea to perform.
So... I want to give my MASSIVE thanks to my wife for being so supportive during this time. She's had a lot on her plate, as the old saying goes, and even though I've been there for her a lot of the time during this period of impeding loss, I've also been dividing my concentration with my preparation for the event. I don't regret that, but at the same time I really appreciate her patience and understanding. She's been great.
THE NEW MOBILE DJ COMPANY IS COMING... JUST NOT YET.
All that being said, I need to concentrate on my family a little more for the time while Lanna's mom makes her transition. That is my focus right now, first and foremost.
As far as the new DJ company goes, I need this to be a GOOD start to a new business. So far, the new company logo looks great. Business cards, company shirts, etc. are in the works. I have substantial work done on the new website. I have some great potential new team members to assist with gigs. It's going to be great.
However... I want to get a little bit more work done on it. Planning is important; I don't want to end up blowing up a lot of "hype" and then supplying an underplanned, inferior trainwreck like (just a great recent local example) the loser that started the hilariously awful new Shotgun Sam's Pizza Palace in Tulsa.
I want this to be a company that I can be proud of. It'll take a little more time - not much, but a little. So, hang in there. It will be incredible.
For now, though, if you'll excuse me, I need to get back to spending some time with the family. Thanks very much, and I'll post again fairly soon.
- Badger