Entry Two Hundred Two.
Saturday, 2017.01.07, 1:00 PM CST.
At 45/Resolutions for 2017.
Current Mood: Strangely optimistic... actually looking forward to a lot.
Current Scent: X-Centric by Alfred Dunhill.
Well, in my last journal entry, I mentioned my "three words" for 2017 - "Boost," "Charm," and "Give," inspired by Chris Brogan's tradition of coming up with three words to guide him every year.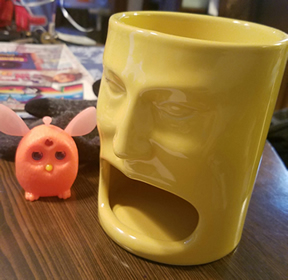 However, I also came up with a set of genuine new year's resolutions, and I want to go over those along and also write a little bit about the milestone that I rencently reached... age 45.
Very early last month, I turned forty-five years old. I don't usually openly discuss my age, because most people don't usually think that I look as old as I am, and I generally don't feel as old as I guess I'm "supposed" to feel at "my age."
But, forty-five hit me harder than most ages. I knew that once I reached 45, I would be closer to 50 than I'd ever again be to 40. That was a pretty rough reality, especially since I can remember many things from my twenties as if they happened only a few weeks ago.
Now, I know that a lot of you reading this have already reached 45 and that some of you probably have moved quite a few years past that age. I'm not looking for sympathy for the grief of reaching 45... it's just a very interesting age. I have two young sons, the older of whom is only a fifth of my age at the time of this writing. How very fascinating it must feel to be nine years old in this wonderful and yet very frightening world. It can be exhausting having a four-year-old and a nine-year-old, but it's also exhilirating in a strange way.
In any case, I'm 45 now... and I'm trying to deal with it. I'm not ready for a walker and some Metamucil just yet.
For those who might be interested, here they are...
My New Year's Resolutions for 2017:
1. I will pay more attention to those who would serve to help build me up and less attention to those who would serve to tear me down.
That seems like an obvious one, but it really isn't. Not everyone I count as a "friend" helps me feel like a better person.
2. I will associate more often with those who are successful.
This doesn't mean that if you're my friend and you're not doing well, I'm going to shun you or quit talking to you. What this means is that I will make an earnest attempt to associate more than I used to with other local professionals, entrepreneurs, and creatives who are experiencing success and making a difference.
3. I will spend less time messing around on social media.
This is going to be hard, because I loooooooooove my Facebook. I will still continue to post on the DJ Badger page as well as the Awesome Retro DJ Service page. However, I'm going to make a very strong effort to stop checking Facebook every few minutes just to see "what's up." I've gotten to a point at which I keep my phone beside me all the time and if I don't check Facebook for more than a half-hour or so, I keep wondering if I am missing anything major. This will stop. I'll still be checking Facebook and interacting plenty from my personal account as well, but not as much.
4. I'm going to get together with friends more often.
This means that I'll be putting together informal get-togethers to play games like "Cards Against Humanity" and "God Hates Charades" with my friends. I'll start going to social functions that I didn't organize more often, as well. And this brings me to number 5...
5. I will support my fellow DJs more.
I know that I organize my own events far more often than I attend events at which I'm not performing. There are plenty of great DJs and event organizers (including but not limited to Jessy James, Axis, Vixx, Robbo, Lynn K, Xylo Sesame, Speedbump, Falkirk, Dilution, Mike Castle, and Sam Propst) in Tulsa whose events I need to frequent more often. I'm hoping to do so. I cannot expect the scene to support my events if I'm not supporting other events in the scene. I'm sorry that I haven't been so great about it in the past.
6. I will be more giving and support those who are less fortunate.
I mentioned this in that last journal entry. I'm not rich - nowhere near what I would consider rich, at least on a financial basis - but I have been fortunate enough to find myself more successful than ever over the last couple of years. I need to be more generous. That doesn't mean that I'm going to be going around handing checks to my friends or anything like that, but it does mean that if you're my friend and you're hungry, you can let me know and hopefully I'll be able to get you something to eat. If I invite you out for dinner or some drinks and you can't do it because you don't have the funds, I'll do what I can to make sure that you're taken care of. I've done what I can in the past to avoid being an absolute selfish prick, but I know that I could have been more giving. I'm going to try to improve on that this year, and I also plan to give more to charities such as Share Our Strength (nokidhungry.org).
7. I'm going to play with my kids more.
They won't be this young forever.
8. I'm going to play more Atari 2600.
I haven't set aside enough time for silly things like that in previous years. I'm working on that.
9. I will write more.
It's no big secret that I've been working on a novel, very slowly, over the course of the last few years. I need to speed that up and see what I can get done, because I really would love to have something ready to publish by the end of the year.
10. I will read more.
I've also gotten back into the habit of reading more often. My wife bought me a Kindle Fire, and I've been buying "books" on that thing like mad. I still love physical books, don't get me wrong... but there's something very satisfying about finding a $25.00 book that I've wanted for months for $1.99 as a download. (Yes, I realize that I could do the same thing with music. Sorry... when it comes to my vinyl obsession, I try my best to remain decidedly old-school.)
11. I will learn more.
It might surprise you to know that most of the stuff I buy for my Kindle is non-fiction. I tend to purchase a lot more business-related and self-improvement/motivational books than anything else. Do I think that I have a lot to learn from the likes of the aforementioned Chris Brogan and Seth Godin? Of course I do. (This, obviously, ties in with resolution #2 above.)
12. I will value my health more.
This includes my mental health as well as my physical health. I'm trying my hardest to find ways to be happier, calmer, and more confident about life, and as far as the physical stuff goes, I've started going back to Sky Fitness on a regular basis, and I've invested in a couple more home fitness programs ("Cize" and "Insanity") to keep me busy even when I can't make it to the gym.
13. Memento Mori.
That's a latin phrase which essentially means "Remember that you have to die." As I think I've written here before, I have lived with the philosophy of "Nobody gets out of this alive" for quite some time. This is the only life that we've all got, so any day spent not doing at least something awesome is a day wasted on mediocrity.
14. I'm going to have more adventures.
It's a generic phrase, but that's the best way that I can cap this list off. I will indeed have more adventures, of one sort or another, this year.
That's it! There's the list. It's a lot longer than usual, and realistically, I am concerned that there's no way I'll be able to achieve all of these goals... but there they are. We'll see how things go.
Are there also at least a few things that I'm not telling you? Of course there are.
Thank you to everyone, as usual, for your support. More later.
Badger

Forty-five years and one day old, December 2016.
Not too shabby if I do say so myself.

#mythreewords