Entry Two Hundred Four.
Saturday, 2017.03.25, 3:09 PM CST.
My new mobile company: BRAVO Pro DJ Service!
Current Mood: Busy. Superbusy. In a good way.
Current Scent: Yohji Homme by Yohji Yamamoto.
Well, hello, everybody. I hope you're all doing well. I'm sitting here trying to chill out a bit, alternating between a lovely coconut latte and a gigantic shaker cup of All Day You May (a fitness supplement developed by the massive Rich Piana). I actually had some dental work done yesterday; that was fun in its own special way, and luckily, all went well.
I've recently obtained a large batch of vintage vinyl and some massive new light equipment - more on that in a little bit - and I'm currently waiting for the postal carrier to bring me some newly-produced games for the Atari 2600. Like my last blog entry stated, I've been incredibly, incredibly fortunate as of late.
I figured you might like an update, so here we go.
BRAVO.
A lot of you probably already know the big news... but I'll happily share it here anyway.
On February 13th, 2017 - the 29th anniversary of my official introduction to the DJ world in 1988 - I officially launched another mobile DJ company called BRAVO Pro DJ (Facebook page here) with a special performance at the All Souls Unitarian Church Sweethearts Ball.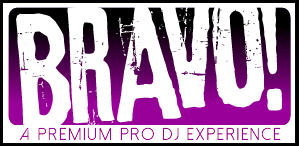 Now, as you may remember, in March of 2015, I also started a DJ company - Awesome Retro DJ, specializing in the music of the 80s and 90s. The Awesome brand is still up and running, and can be found on Facebook here.
BRAVO is decidedly different.
BRAVO Pro DJ is my return to full-fledged mobile DJ work, kind of like my older company, EKG, which lasted from 1989 through 2002. I actually mentioned BRAVO (before I revealed the name) in a blog entry here on djbadger.com - way back in June 2014!! - so it's evident that I've been planning on this company for years.
BRAVO is a PREMIUM pro DJ service. I've been DJing for over twenty-seven years (and involved in the DJ industry for 29!), so I know how to do it correctly, reliably. I've invested countless thousands of dollars into sound equipment, and music. I've built up a great reputation in our area as a solid professional. So, booking BRAVO isn't dirt cheap... and I'm not about to offer something lousy in the name of making a quick buck.
However, when you hire BRAVO, you can be assured that you're not dealing with some big corporation (some of you may or may not know whom I'm talking about!) that will "bait-and-switch" you with the promise of a good DJ performance, then send out one of their inexperienced/sucky "newbie" DJs because all of the "good ones" were already assigned to other peoples' events.
BRAVO is the mobile DJ choice for customers who want it done correctly - and who want to impress their friends, family, and/or colleagues by getting the best DJ service that Tulsa has to offer.
Frankly, you can either get the kickass DJ experience that BRAVO provides, or you can take your chances with "the other guys." The choice is yours.
A few facts about the BRAVO company, some of which haven't been revealed until now:
No, we haven't given in to the digital era... BRAVO still offers our customers genuine vinyl DJing with CDs being played as well... but no laptop used for DJing. Our customers don't just get some guy standing in the corner pushing buttons; instead they get to see a skilled professional doing genuine, manual work - a REAL DJ performance. That alone sets us apart from the rest of the pack.
.
Our musical variety is massive, featuring a range of music from the big band era up to the current hits. Yes, we often play dance remixes, and some of them will be pretty rare, from my own personal music collection. Obviously, requests are welcomed.
.
We remember when the term "customer service" wasn't merely a selling point, but an actual way of treating customers properly and fairly. At BRAVO, our dedication to extraordinary customer service is unequaled.
.
We only accept ONE BOOKING per night, so that I may personally DJ at every BRAVO performance and we won't have to divide our concentration up between multiple customers for any specific date.
.
The forthcoming website for BRAVO will be the biggest DJ-related website that I've ever produced. It will not only be pretty (I can't lie; the site looks amazing), but it will also be packed with content, including pictures, videos, blogs, essays, and links to free mixes. If you know me... you know there will be tons of details and probably some blunt opinions here and there.
.
The prices range from around $850 for our "Party Standard" package up to $2250 for a package called "Project X," which would include a bigger light system than I have ever used for any of my parties ever before. Periodically, the website will offer money-saving specials or offers of free upgrades.
.
The lights - OH, the lights. BRAVO light systems include an absolutely wicked combination of old-school and recent club effects, including some recently-acquired premium light equipment that I haven't used at ANY of my DJ performances at this point. So, for instance, in one of our "Mobile Club Phenomenon" packages, the centerpiece will be either our new Martin Rush Wizard (amazing!) or a GIGANTIC Martin EFX500, but that might be used alongside a classic American DJ Charisma unit and/or one of our super-hard-to-find vintage Meteor Probeam projectors.
.
The sound systems are also amazing, featuring high-quality Peavey speakers and amps, like I've always used in the past, along with a newly-upgraded Allen + Heath DJ mixer. Even our smallest system features a 2000-watt amp (which we never turn up all the way).
If you have a wedding, adult birthday party, corporate event, class reunion, college party, etc. for which you need the best DJ service you can get... please reach out and let me know, either by using the e-mail link below or via the Bravo Pro DJ Facebook page. (Once the website is up and running, there will be a "Bookings" page with which you can easily send in the details of what you're needing.)
That's it for now; I've got lots more work to do, but I'll post more soon. Take care and thanks as always for your support!
Badger