Entry Thirty-Seven.
(Thirty-Seven?! In a Row?)
Thursday 2006.09.21, 10:49 PM CST.
Major RETRO PARTY on September 30th!
Well, fall is here, and the weather is changing, and right on cue, I'm getting more and more sentimental about the DJ business. In eight days, it will have been SEVENTEEN YEARS since I DJed my first gig with my very own mobile music show, EKG. That's just craziness.
(On a related note, we are creeping closer and closer to February 2008, at which point I am going to have to have a knock-down, blow-out, insanely huge party, since it'll be the 20-year anniversary of my overall involvement in the DJ industry! But, that's a way off, and alas, I digress...)
There have been major goings-on in Badgerville. You can expect some really HUGE news soon. For the time being, though, I have big news about a forthcoming party.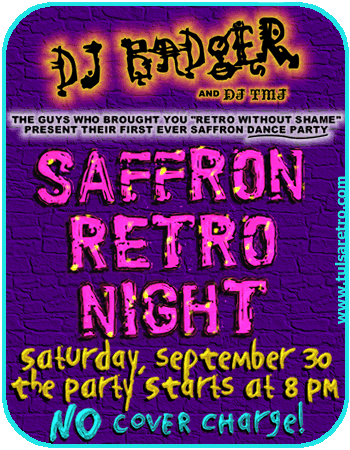 (Click here for the official Saffron Retro Night site.)
Before we go any further, I want to assure everyone that this will not be the direct follow-up to Retro Without Shame or Bikini Pop Fiasco. Although this is still considered an "18-and-over" party (due to lyrical content), it is not intended to be a "bikini dance party."
The musical direction, however, will definitely be along the lines of 2005's excellent Retro Without Shame event... Lots of great, classic club music, and not just from the standard "progressive/new wave" variety upon which so many of the local "retro nights" seem to focus exclusively. We're going to bring out the massive sound and light system and play some of the "new wave" classics, along with classic club-oriented pop tunes, old-school hip-hop (Salt + Pepa or Tone-Loc, anyone?), techno, 1990s Eurotrash (think Real McCoy), and - one of my current mini-obsessions - classic New Jack Swing.
A few notes regarding the "Bikini Pop Fiasco" event on April 1st.
As some of you may know, at the last major DJ event, Bikini Pop Fiasco, we had a few problems. I won't go into the graphic details here, but a few members of the crowd showed up way more intoxicated than they should have been, and a few things happened - no fighting or anything like that, but a few things which were completely and totally unacceptable.
Frankly, I don't feel good about Bikini Pop Fiasco. I put a lot of effort and expense into that event, and as things turned out, it pretty much lived up to its name. (The name, incidentally, was chosen because I saw it in a vision [daydream] and thought it would end up being ironic because the gig was going to rock so hard.)
A lot of people refused to dance, a lot of people were scared off by some of the few people who WOULD dance, and there was just a lot of bad stuff that happened. It was a really lousy situation. I don't hold the Gypsy Coffee House, nor its owner, responsible. The really big problems were caused by a few jackasses who couldn't hold their booze and ended up acting in a way that angered me very deeply, especially after the gig when I found out about everything that was going on. (One of the main individuals who was involved, incidentally, was mature enough to give me a sincere, written apology... and that was really cool.)
On top of that, I had found out three days earlier that my full-time "day job" was probably going to be outsourced to another company, so I was rather preoccupied and stuck in a very, very bad mood.
So, if you came to Bikini Pop Fiasco, I'll say outright that I'm sorry. I apologize for how the event turned out. It was a really sucky event on a number of levels, and I don't ever want a DJ event to go like that again.
Will I DJ another gig at the Gypsy Coffee House in the future? I certainly hope so. I like the Gypsy. I've had much more successful events there, and I think it's a great place for DJing under certain conditions. (For instance, one shouldn't play anything "too new" that doesn't get played on the radio... because new music that doesn't get played on the radio is apparently scary, evil, and wrong - at least in Tulsa - and nobody should ever think of dancing to it.)
These days, I've been going back to the Gypsy more and more often as a customer, and I will hopefully DJ there later this year or at some point next year. When I do it again, things will be a LOT different.
Anyway, for the time being, whether you went to Bikini Pop Fiasco or not, please consider coming to Saffron Retro Night. It's going to be a LOT of fun and I'm really looking forward to it.
More later... Thanks!
Badger