Entry Eighty-Five.
Thursday, 2009.02.05, 1:04 AM CST.
Meeting D.J.P, hello to the new Mario's, and goodbye to the old Mario's...
Greetings!
First off, I want to thank everybody that showed up to make Boombox a success. It was one of the most exciting DJ events to which I have ever been a witness, and I really enjoyed it. DJ TMJ helped me set up the lasers and lights, and even though neither of us actually DJed at this event, we still had fun.
I even got to chat a bit with D.J.P, the well-known Vegas-area turntablist who headlined the event. Not only was he amazing on the turntables, but he was an extremely cool guy to talk with - very down-to-earth and appreciative. I picked up some vinyl of his which he was happy to autograph, and I even got a couple of pictures with him. (Yeah, I was acting like a fanboy - a really cool fanboy, but, yeah, a fanboy.) To learn more about D.J.P, click here.
(Incidentally, the unusual period placement in "D.J.P" is his thing, not just a typo on my part.)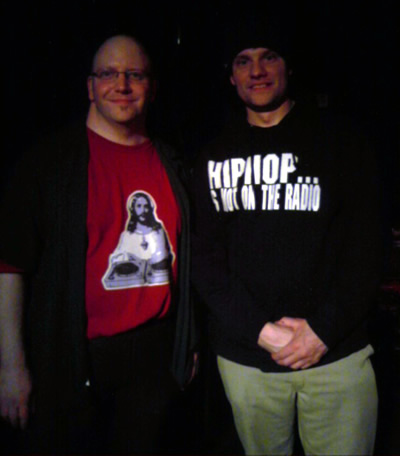 On a different and more somber note, I went out to Mario's NY Style Pizzeria yesterday afternoon. They have a new Tulsa location, across the street from the old location. It's still at 51st + Harvard, but it's now in the southeast quadrant, a little to the left of Food Pyramid (or, for those who want to be old-school: Albertson's, Skagg's-Albertson's, Skagg's, Skagg's Alpha-Beta, Jewel Osco (???), or the second coming of Albertson's).
The new Mario's pizza is terrific. It's much bigger and nicer than the original Mario's, and like the original, its walls are hand-painted with various decorations and murals by the great Janet Davie. There are some definite improvements, such as more seating and two, count 'em, TWO restrooms. The food quality is still the same, which is to say that it is awesome. They still serve the best pizza in Tulsa as far as I'm concerned. Mike Selvaggi, the late owner of the original Mario's, would have been proud; I wish that he could have lived to see the wonderful new place, and I like to think that he can still visit there from time to time in spirit.
All that being said, that's not the really somber part. This is:
With the impending widening of Interstate 44, I knew that the old shopping centre with the original Mario's was going to be torn down. For weeks, I had been meaning to drop by and get pictures of the place that Kevin and I had our fateful first pieces of Mario's pizza in 1995 - the same place that I had picked up pizzas for Critic's Choice Video and Video Express back in the mid-to-late 1990s, and the same place to which I had taken countless dates, friends, and colleagues. I wanted to be able to present a visual record at my site showing what Mario's had been before its expansion.
I waited too long to get those pictures. Today, when I arrived to grab lunch from the new Mario's, I was in time to see the old Mario's across the street in rubble, torn down by a bulldozer team only hours before. Going back through all the memories I had of the place, I can't say that it wasn't a little bit heartbreaking to see it.
I understand the need for progress, and I definitely understand the need for a wider I-44. However, I can't say that the progress isn't coming at a heavy price. Between the 2007 destruction of the Camelot Hotel (at which I went to my first music convention over 15 years ago) and the 2008/2009 eliminations of the old Mario's, the old Lanna Thai, Celebration Station, and the Towers Hotel and Suites (at which I attended my first fetish party), a lot of places have been removed that held some sort of significance in my memories. It's quite sad to see them all torn down and hauled away.
Back on the bright side, at least Tabu and the original Fat Daddy's are gone. (Technically, Tabu was wiped away last year and Fat Daddy's is scheduled to be demolished soon.) Both of those places sucked. :)
More later!
Badger