Entry Ninety-Six.
Thursday, 2009.06.11, 8:16 AM CST.
"TRUE FAITH" - a BIG DJ event coming July 31st!
All right, everyone. I have some big news. Actually, historic news.
In the past, I have avoided doing "big" multi-DJ shows that I didn't promote. I would come up with the concepts for parties, bring all the equipment, usually bring along my friend TMJ, and basically work my ass off and have a good time.
I never really tried to get into any of the "big" events - Assimilation, 80's Prom, etc. They didn't come looking for me to DJ, and I never really considered being a part of them.
The closest I got to such an event was providing light shows for a couple of events - the Novachild/Tech Tonic performance last year, and Boombox this January.
Well, after over two decades in the industry, this is the first year that I've decided to perform at some of these big multi-DJ events. The first one is going to be a MASSIVE party at the Marquee on Friday, July 31st, called TRUE FAITH.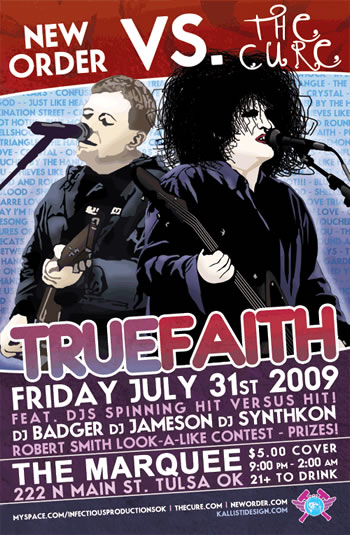 Around the time of my Depeche Mode Night at the Gypsy earlier this year, I was approached by a gentleman named DJ Synthkon, with whom I immediately formed a bond because we had such similar backgrounds. Like me, he listened to KTOW, he went to Mohawk, and he went to such long-gone Tulsa clubs as Ikon and (gasp!) the Beat Club. So, right away, things were cool. Soon, he talked to me about "True Faith," and soon after that, I agreed to be a part of it.
This is going to be awesome.
Here's the concept: Three accomplished, experienced DJs are getting together to play a night focused on New Order and the Cure. Obviously, if you're a New Order fan or a Cure fan, then you already know what your plans need to be on July 31st.
This won't just be a New Order/Cure party, though - we're also going to be rocking a lot of other great electronic retro music, too - Depeche Mode (duh), Siouxsie, Echo and the Bunnymen, Pet Shop Boys, Book of Love, etc., etc. I've already been putting together my list of tracks to bring... and I'm going to be breaking out some rare mixes that I haven't played at any of my gigs in years upon years. I am getting more excited about this every day.
Now, to clarify, I'll be one of the three guys DJing, but I won't be providing lights for this event. However, for those who haven't been there, the Marquee has quite an impressive light show of its own... along with a great sound system.
There's even going to be a Robert Smith look-alike contest! How awesome is that?
And, unlike a lot of the gigs I've done over at the Gypsy (no disrespect to the Gypsy) - There will be alcohol at this event! Yesssss! So, you can actually get your drink on while you get your dance on.
This won't be "just another retro night." Not by a long shot. "True Faith" is going to be one hot night at the Marquee... Don't miss it!
Badger
PS: Before any rumours start spreading... No, DJ TMJ is not partnering with me on this event, but he and I are still friends and we do have plans for another Badger/TMJ event at some point in the future. :)