Entry One Hundred Twenty-One.
Thursday, 2010.02.11, 2:01 PM CST.
20 years of "Enjoy the Silence!"
Current Mood: Optimistic again. Current scent: None.
"All I ever wanted
All I ever needed
Is here in my arms.
Words are very
Unneccessary
They can only do harm."
-dM, 1990
Well, it's time for another update. Things here at Casa de Badger have been going okay. I've been slowly recovering from the Legionnaires' Disease, taking my antibiotics and measuring my lung output regularly. I am slowly but surely getting better. Thank you to everyone who has wished me well.
Twenty years ago last Friday (February 5th, 1990), Depeche Mode released "Enjoy the Silence."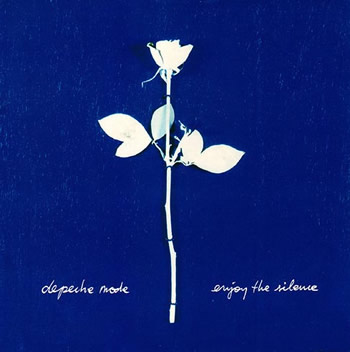 I had intended to write a Journal Entry about it last Friday, but life kind of got in the way, as it sometimes does.
"Enjoy the Silence" was Depeche Mode's twenty-fourth single release. Following "Personal Jesus" on August 29th, 1989, there was a strange "gap" in DM releases. (The full Violator album wasn't released until March 20th, 1990.) "Personal Jesus," of course, was a huge success; at the time, it became the biggest-selling 12" single so far for Warner Brothers. So, fans anxiously awaited the follow-up.
What we got was "Enjoy the Silence." Arguably one of their best songs, "Enjoy the Silence" also became one of their biggest commercial successes, especially in the United States where it enjoyed a spectacular amount of radio play, even on "pop" stations. Depeche Mode's fan base grew immensely due to this single, and as a result, when Violator was finally released, it became the top-selling album in the band's history. (At this point, in fact, it has sold over 10 million copies.)
The song was such a success that in 2004, Mute Records decided to release updated versions of the track, including remixes by Timo Maas, Ewan Pearson, Richard X, and a drastic new rock-oriented "reinterpretation" by Linkin Park's Mike Shinoda. A brand-new (well wicked) animated video was also produced, featuring the Shinoda version.
"Enjoy the Silence" is not one of my absolute favourite Depeche Mode songs, but it is easily in my top 10. It's absolutely beautiful and musically is one of the band's greatest compositions.
The song itself brings back a wealth of memories:
I remember, during one of my high school classes, having my best friend Kevin tell me that he'd heard a "new" Depeche Mode song on KTOW (Tulsa's long-gone, incredible alternative radio station). I had no idea that they were releasing a new song, so of course I was giddy.

I didn't get to hear the new song on the radio before Mohawk Music brought the original (standard edition/blue cover) UK 12" single in. As soon as that 12" arrived, I ran into Tulsa, bought it, and headed back home.

A week or two later, the limited 12" single (yellow cover) arrived at Mohawk, and the domestic 12" with "The Quad: Final Mix" (a phenomenal 15-minute combination of four different remixers' efforts) arrived at Buttons. I bought them both right away as well.

A while after that, the extra-limited (black cover) 12" arrived at Mohawk, featuring "The Quad: Final Mix" on one side and a special "DM" etching across the other side. Of course, I picked that one up too.

My DJ mentor Dave and I agreed that the first quarter of "The Quad" was the best mix of the song released so far at the time, so that became our mix of choice to play at gigs. I specifically remember him playing it (for the first time at one of his gigs, I think) at a party at one of our friends' houses. A bit after that, at the same party, we all sat around watching the film Parenthood. During the film, I sat next to some girl, from another school district, who kept sucking my fingers, and I was too ignorant to realize that she wanted to do more. Yeah, even at 18, I was a naive kid. Durrrr.

I remember playing the full "Quad" - all four sections - at my house during the second half of EKG's first Duohouse Pilgrimage party on April 14th of 1990. It was my first date with "J," a girl from my high school who would soon become my first really "serious" girlfriend, then later move away and cheat on me like a cheap trollop.

In July of 1990, during my first Depeche Mode concert in Dallas, I got to see them perform "Enjoy the Silence" live, complete with rose-shaped gobos in their intelligent light system. It was amazing. (I've since seen them perform it six more times, and for many dM fans, it's been considered one of the highlights of every concert.)

In September of 1990, I had a long, drawn out discussion about the lyrical meaning of "Enjoy the Silence" with a female acquaintance of mine at Tulsa University. She basically explained that in her opinion, the song meant to "shut up and enjoy the moment." That conversation was actually one of the best memories I brought out of my time at TU.
It is absolutely shocking to think that "Enjoy the Silence" is now 20 years old. I'm going to have a lot of "shocking" feelings like that this year, though, since it's 2010.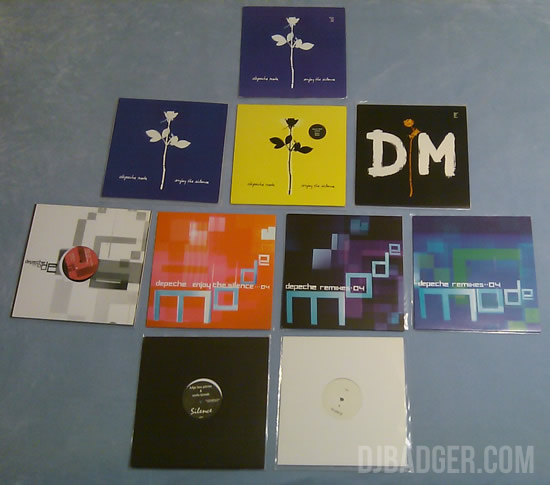 Some (not quite all) of my "Enjoy the Silence" vinyl collection, from the top:
USA 12". UK standard edition 12", limited edition 12", and extra-limited etched 12".
"Enjoy the Silence 04" UK promo 2x12", standard 12", and accompanying
limited and extra-limited "Remixes 04" packages (of other tracks).
Filipe Inoa Patrone + Serebe Kironde Remix 12" and some other white-label remix 12". :)
More later!
Badger