Entry One Hundred Forty-Two.
Friday, 2011.09.16, 9:35 AM CST.
Mohawk Music has now been closed over ten years... but long live Mohawk Music!
Current Mood: Trying to be productive, and feeling excessively nostalgic.
Current Scent: 212 Men by Carolina Herrera.
I have been meaning to post this for months, and I regret that I have not.
June 30th was a very sad anniversary for me and for a number of other music fans around Tulsa. It was the tenth anniversary of the last day of Mohawk Music.
For those who don't know: Mohawk Music was the greatest music shop that Tulsa ever had. Tulsa has had bigger, but none better. It opened up in 1988 and shut down on June 30th, 2001. It was not only a music store, but a beloved hangout for music fans and collectors, who would gather in front of the big glass counter and discuss our tragedies and triumphs, mainly as far as music and collecting were concerned, but, sometimes otherwise...
Mohawk specialized in progressive/modern rock/alternative music. Now, back in the late 1980s and early 1990s, "alternative" really meant something - it wasn't just a marketing label. "Alternative rock" wasn't something you would hear on normal pop stations. You would hear genuine alternative artists on alternative stations - like KTOW (which I'll discuss in a forthcoming entry). Back in the day, "alternative" artists were artists like Depeche Mode, New Order, the Smiths, the Cure, They Eat Their Own, Primal Scream, the Pursuit of Happiness, Blue Clocks Green, Siouxsie + the Banshees, etc., etc.
Of course, as the "alternative" merged into the mainstream, some artists (like DM and the Cure) managed to cross over and get radio play, while other artists (like Primal Scream and Siouxsie + the Banshees) remained (relatively) obscure.
Wait. Let me get back on track. From the underground to the mainstream, Mohawk Music covered the full gamut of alternative/modern rock/progressive music. You could go there to get the latest Smashing Pumpkins CD, or you could go there to track down rare vinyl releases by the Aphex Twin. DJs loved Mohawk because they carried tough-to-find imports and remixes. Local music fans loved Mohawk because they carried music by local acts that hardly anyone else would touch. It was amazing.
Plus, the people behind the counter actually knew something about music. Paul, the owner, was (and is) a practical encyclopedia of musical knowlege, not only because he was a music dealer, but also because he genuinely loved music. Plus, he had a passion for finding music for people. If you couldn't track down a particular song or remix, you could let him know and he'd do what he could to special-order it for you. When you shopped at Mohawk, you could really tell that music wasn't just a job for Paul; it was something that he very earnestly enjoyed.
Not only that, but if he knew that you were the most passionate collector of a particular artist in town, he would sometimes put items aside when they arrived to see if you might want them. (I was the "Depeche Mode guy" in that sense... and Paul's extremely kind phone calls helped me add countless rarities to my collection.)
Well, as the 1990s progressed, things started happening that made running an independent music store more and more difficult:
As mentioned earlier, many alternative artists, along with the "image" of alternative music as a whole, became more mainstream, which meant that more and more of those formerly-obscure artists were becoming available at crappy retail chains like Best Buy.
.
Those retail chains were making such huge volume deals on music that they could offer insanely low prices compared to the prices that independent stores needed to charge in order to still make a profit.
.
Too many members of the music-buying public, with the narrow-minded mentality that "low prices are more important than good service," decided to buy their music at places like Best Buy to save a few bucks... even though they were killing a local business.
.
To make things even worse, people discovered that they could steal their music online in MP3 format via services like Napster... and since it was easy to steal the music without getting caught (as opposed to, say, stealing a turntable or a vacuum cleaner or a television or a Ferrari)... a lot of them did just that. After all, "It's just a few songs... who's it really hurting?"

(As many people know, I hate music piracy. I absolutely despise it. There's no good reason for it and if you steal your music - especially if you'e a working DJ who's stealing his/her music library - then you deseve to have something valuable of your own stolen.)
My friends at Mohawk Music, who had done everything they could to faithfully serve Tulsa's alternative community since 1988, were forced to close their business. On that last day, June 30th of 2001, I went by Saint Louis Bread (now Panera Bread), picked up a big box of bagels, and headed to Mohawk. I arrived at 11:05 AM, just after they opened, and from my car I pulled the big box of bagels and my own black, folding lawn chair. I stuck around until after the official closing time (9:00 PM). The only time I left that building was when I stepped to the QuikTrip next door to buy drinks.
It was a bittersweet event. Over the course of that day, the place was often packed - not just with bargain shoppers hoping to get special "going out of business" deals on the final day, but with old fans and friends of the store, wanting to meet together and reconnect with each other one last time before the shop shut down for good.
Just before I left, I made my last big purchase from Mohawk - a stack of vinyl, some of which I'd had on hold there for a little while. :) As I paid for my music, I tried to retain my composure, but I couldn't. I just started crying - very quietly, with tears running down my face and the whole bit. After the transaction was done, I hurried myself out to my car with my girlfriend-at-the-time, and we headed off to Tim's (DJ TMJ's) sister's house to play some Cranium.
Exactly five years later... on June 30th, 2006, I walked into ABX Computers (who occupied the shop space where Mohawk used to reside) paid them $50 for the privilege of prying off the last remaining metal Mohawk sign which was bolted to the back of the building. TMJ helped me pull it down and haul it off; I'm still shocked that I managed to obtain it.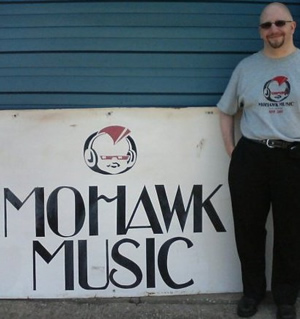 Exactly five years after that... on June 30th of this year, I announced on Facebook that I'd like to reunite with some old Mohawk fans at the location, which was now vacant. It was eerie and (obviously) a pretty sentimental event, but it was nice.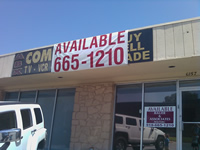 The old Mohawk site, June 30th, 2011.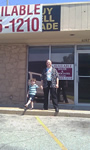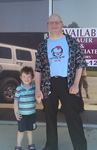 My son X (4 years old) and I in front of the Mohawk building.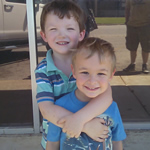 On the left: Scott Price - another Mohawk denizen from the old days - with his son, Noah.
On the right: Noah and X became fast friends after meeting for the first time.
(Pictures were posted with Scott Price's kind permission.)
The best news is that Mohawk - at least in spirit - is not completely dead. Last year, Mik from Mohawk created a Mohawk Music Facebook page, and this year, a new website, mohawkmusic.biz, was created. Not only can you see classic pictures of Mohawk's staff and read their ongoing blog, but you can also buy stuff like Mohawk Music shirts with the iconic "Mo Mohawk" mascot!
As I've said many times on numerous occasions... there will never be another music store like Mohawk Music. It was one of my favourite places to hang out for over a decade, and I certainly miss it.
Badger
[Somewhat little-known fact: The first time that I ever went into Mohawk Music, in the summer of 1988, I had terrible self-esteem. I felt so intimidated by Paul (due to absolutely no fault of his own), I just spent a few minutes there and left without buying a thing. Months went by before a friend of mine, Neddra, convinced me to give Mohawk another try, and I soon discovered how awesome Paul and Mohawk both were.]