Entry One Hundred Forty-Nine.
Friday, 2011.11.11, 9:47 AM CST.
The Fall 2010 Chronicles, Part IV: SRO25 and Sanchez, one of the coolest DJs ever.
Current Mood: So much to do, so little time... but I'm trying. I'm trying.
Current Scent: Minotaure by Paloma Picasso.
Plenty of you have heard me yammer on about the "good old days" of KTOW, the best radio station that Tulsa ever had.
If not, here's the deal: In 1988, as I was really getting into the legitimately alternative ("progressive," as it was called) music of the time, I found out about a radio station called KTOW - AM 1340. I immediately became a faithful listener, and followed them as they expanded to FM 102.3.
It was amazing. They played music that couldn't be found on pop radio stations, because back then, "alternative" really meant something. You could tune into KTOW and hear music by artists like Depeche Mode (my personal favourite, of course), the Cure, the Smiths, Book of Love, Public Image Ltd, Nine Inch Nails, Die Warzau, the Pursuit of Happiness, Too Much Joy, etc., etc.
It was independent radio, with DJs who were genuinely passionate about the music they played. They were given massive amounts of freedom to play what they wished. There was even a weekly late-night call-in talk show which took people's calls live on the air - something that would be unthinkable on FM radio these days.
SANCHEZ!!!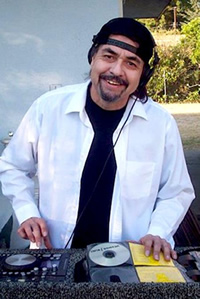 One of my favourite programs on KTOW occurred on the weekends: "The Party Train," hosted by DJ Sanchez and someone else (I forget who, unfortunately). Sanchez was a renowned club DJ who performed at SRO, and later on became one of the most well-known DJs from the early days of Ikon. (What I didn't realize, back in the KTOW days, was that Sanchez was also the production manager for KTOW.)
"The Party Train" was awesome. It was absolutely the greatest "dance music" program I ever heard on Oklahoma radio.
They were playing club music that most people - even electronic music fans in the area - didn't know about. They showcased now-classic house tunes like Maurice's "This Is Acid" and Coldcut's "People Hold On" (featuring vocals by Lisa Stansfield). They played sample-laden classics like the Seven Minutes of Madness Mix of Eric B + Rakim's "Paid in Full." They played some cheesy, campy club tracks like Bronski Beat + Eartha Kitt's "Cha Cha Heels."
They even played REALLY odd stuff like Boris Badenough's "Hey Rocky" - a house track full of Bullwinkle clips - and a weird little track called "Sounds from the Pink Sandbox" - a song by Emilio Pasquez crafted almost entirely out of samples from the old "Batman" TV show.
"Party Train" wasn't just about being a "dance track" show. It was about digging into the crates and providing a mixture of great dance music and a few incredibly obscure songs that even I couldn't track down.
[That's right - even with the incredible Mohawk Music at my disposal, I couldn't find "Hey Rocky" or "Sounds from the Pink Sandbox." I finally had to purchase the records via mail order years later. I wasn't even able to get an original 12" of the Pasquez track until 3-4 years ago!]
Needless to say, I LOVED "The Party Train." I looked forward to listening to it every weekend; I would take notes of which hot house/club songs I really loved, and then I do what I could to try to buy them for my own arsenal. (As a mobile/school dance/wedding DJ, though, I didn't get many opportunities to play them at the time.
THE END OF THE AWESOMENESS.
Unfortunately, KTOW's progressive era came to an end in the spring of 1991. One morning, while heading from my TU dormitory to pick up some doughnuts at Ann's Bakery, I turned on the radio and heard Vanilla Ice's "Ice Ice Baby" on KTOW. I thought it might have been a joke; it wasn't. The format had changed to "urban contemporary," and the KTOW I knew and loved was no more.
Tulsa never had anything quite like KTOW ever again. Some may say that the Edge of Insanity (aka "The EOI") programming on FM 91.3/92.1 was similar. It was somewhat similar... but KTOW was always far superior. I was actually one of the DJs on the air during the first year of "The Edge of Insanity," and I would never say that it was better than what KTOW offered.
There will never be another KTOW... and that's a real shame.
THE MAGIC OF FACEBOOK.
Well, for those of you who don't know, I love Facebook. I started using it in 2009, and I love posting there when I can. It's been really useful for finding past colleagues, high school and college friends, and even meeting a few people in the entertainment industry.
Well, in early 2010, I found the "I used to listen to KTOW" group on Facebook. I joined it and immediately found a slew of other fans.
Soon after that, I was able to send a message to Sanchez and add him to my Facebook friends! The best part was that he was (and still is) SUPERcool. We talked a lot about KTOW, about his current work in California, and about the music that we both loved back in the day. He even helped me identify one particular super-rare remix of Digital Underground's "The Humpty Dance" that I hadn't been able to track down for over 20 years! (I immediately hunted down the 12" single, ordered it online, and had it flown over from overseas.)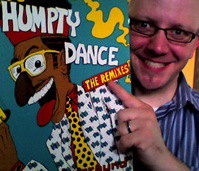 The record arrived on April 15th, 2010.
As you can see, I was somewhat happy about it.
SRO25.
Later in the year, I found out about a special benefit event called SRO25. It was a celebration of the 25th anniversary of the opening of club SRO in Tulsa, featuring a performance by industrial music legends Nitzer Ebb. Furthermore, one of the featured DJs at the event was none other than Sanchez.
I was fortunate enough to attend both nights of the incredible SRO25 event (Friday, November 26th, and Saturday, November 27th). It was quite possibly the most incredible "party" I've ever attended. I got to meet lots of other alternative music fans from back in the day and make a few new friends. I also got to meet Sanchez, hang out and chat with him for a bit, and even hear him DJ in person - something that I never would have thought I'd have the opportunity to do after his departure from Oklahoma.
Just like online, Sanchez was extremely humble and very personable. I was able to obtain his autograph, but in all of the craziness, I forgot to get my picture taken with him.
So... that's how I got to meet one of the coolest DJs I'd ever known.
I also got to meet another couple of gentlemen of interest at SRO25... stay tuned for the next "Chronicles" chapter!
Badger
(Original photo of Sanchez above taken in 2011 by Mark Berkelhammer, used with Sanchez' permission.)