Entry One Hundred Sixty-Eight.
Thursday, 2013.06.27, 10:02 AM CST.
Setlists + details: 80s Prom and Throwback Thursday!
Current Mood: A bit tired but optimistic.
Current Scent: Higher by Christian Dior.
It's been a while! Sorry about that.
So, back in March and April, l was honoured to participate in two different retro events: Throwback Thursdays and 80s Prom. I'm glad to report that things went very well with both performances.

The setlists are available here:
Throwback Thursday setlists
80s Prom setlists

Throwback Thursday was terrific! I got to DJ alongside DJ Parasight and (taking the place of the previously-scheduled DJ Neuro) DJ SPEEDBUMP! Both of them were great to work with. I had known Parasight for years, but I had only briefly chatted with Speedbump at one of Tulsa's monthly "Purple Pop" events before this night. Man, what a cool guy. I'd love to work with him again in the future.

My sets went well. I broke out some pretty rare mixes and threw in some major surprises, like Army of Lovers' "Crucified" and "A Juicy Red Apple" by Skin Up. I really enjoyed the performance.
Unfortunately, within the next few weeks, Throwback Thursdays were discontinued. :( They were fun while they lasted.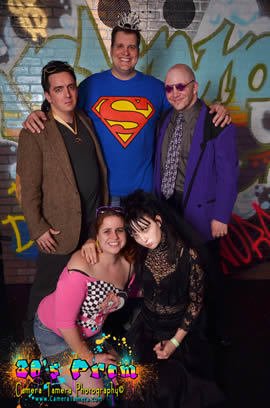 An image I never would have imagined in the past: Robbo, Sea, and I together in the back, with Lynn K and her friend Jenni in the front. This photo was taken by the incredible Camera Tamera (cameratamera.com). (Despite the look on his face, Robbo was actually in a pretty good mood!)
80s Prom was a BLAST! I had never been to 80s Prom before, and it was an amazing experience. Three clubs were going at once, and I was honoured to perform on the main stage alongside one of Tulsa's most legendary DJs, Sean Kibble aka DJ Sea!
For those who haven't read it before: DJ Sea was the DJ at the Beat Club the very first time I ever went clubbing back in the late 1980s. I was rather intimidated to work with such a local club legend, but to my surprise he was extremely nice and awesome to work with.
Robbo and Lynn K, the founders of 80s Prom, were also wonderful - very kind and hospitable.
I performed as the opening DJ, working twenty-one songs into my first set. Sea took over for a while, and then I came back for a short set of six songs before he closed out the evening. I think the biggest "surprises" I threw in were "Centerfold" by the J. Geils Band in my first set and Maurice's classic club track "This Is Acid" in my second set.
The crowd was wild, and huge - the biggest crowd to whom I'd performed in about fifteen years! Plus, I received "props" for actually using real vinyl. That was pretty awesome.
I really enjoyed performing at both of these events; they made me glad to still be a DJ. I look forward to more events in the future... like That 90s Party, which is (ack!) TOMORROW NIGHT!!!
Badger