Entry One Hundred Sixty-Nine.
Friday, 2013.07.05, 12:47 PM CST.
A tale of tenacity, obsession and sickness: That 90's Party setlist + details.
Current Mood: Not the best, but I've been a lot worse before.
Current Scent: X-Centric by Alfred Dunhill.

I've never missed a gig due to being sick. Ever.
I've only had to cancel one DJ performance in my entire career, about fourteen years ago, when I found out that my college graduation ceremony was being held on the same night as a prom for which I was scheduled. I cancelled well over a month in advance, with massive apologies, and I helped my client find another DJ who would be suitable.
But cancel due to sickness? No. I've performed on the verge of death (so it seemed) a couple of times in the distant past, but I've never let sickness force me out of a scheduled performance.
A week ago tonight, I performed at "That 90's Party," the annual follow-up event to "80s Prom." Now THIS was a party to which I had been looking forward. For weeks, I worked on possible setlists, determining what would fit together, which tracks I wanted to play most, and lots of "possibilities" to throw into my crates in case I got a request for something great.

I actually ended up putting together an Excel spreadsheet with over 200 songs and their respective BPMs (speeds), to make sure I packed everything. I knew that I would only be playing a tiny fraction of that list. :) I ended up packing five whole cases of records, plus plenty of CDs.
I also volunteered to bring additional light equipment to complement the venue's existing lighting system... just a few extra lights, but significant stuff.
I posted about this event almost everyday on Facebook... even going so far as to post pictures of the individual vinyl record sleeves on the That 90's Party Facebook page and watching people get excited about the potential tracks. So, suffice it to say that I was EXCITED about this gig!
Then, the day before the event... I got sick. SICK. I was going through Target with my two sons and I felt myself getting weaker and more achy. By the time I left Target, I was practically leaning on the cart to stand up, and I knew that as soon as I got home, I needed to pass out.
Upon returning home, I found that I had a fever over 102° F. I downed some orange juice (but forgot to take any acetaminophen!) and took a nap. Upon waking up, I checked my temperature a few times, getting a reading of 103.7° at one point (the highest fever I can remember having for a couple of decades or so). This time, I took some acetaminophen before napping again, and I finally got my fever to break. The fever, with assorted other symptoms like nausea, returned another time or two before early Friday afternoon, when I determined that I was "well enough" to make it to the event.
Two trips to the venue later (I needed two trips to haul all the gear), I had most of the equipment up and running for showtime. I didn't give myself enough time to put up all the light gear I wanted to use, but I managed to mount an American DJ Gobo Splash, a Martin Raptor, and two Chauvet Scorpion Sky lasers.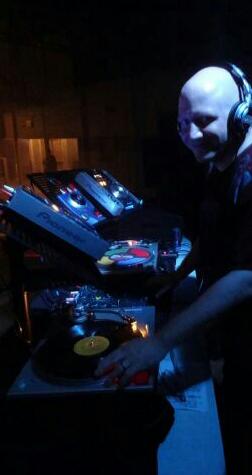 Photo by Rob "Robbo" Robertson.
THE PERFORMANCE
Luckily, I didn't start the evening off... Lynn K did the honours, and I followed her with an eleven-song set starting with an ultra-rare remix of the DJ Rap classic, "Good To Be Alive." I went on to play classics by Naughty By Nature, Garbage, Suzanne Vega, Digital Underground, and more... eleven tracks total, with the biggest surprises being the DJ Rap track and my favourite remix of White Town's "Your Woman." I finished off that set with Lords of Acid's infamous "I Sit on Acid."
When the time came around for my second set, I decided to dig deeper into the more club-oriented history of the 90s with Consolidated's "You Suck," followed by Utah Saints, Book of Love, Apotheosis, and a great breakbeat-flavoured mix of Miss Jane's version of "It's a Fine Day."
Later in the night, we had a "round-robin" between all four DJs. I got four tracks in (one or two at a time): "Motownphilly," part of "1, 2, 3, 4," "Closer," and the Outhere Brothers classic, "Boom Boom Boom." I was about to mix into more, but DJ Sea started playing on top of me, so I bowed out in deference to him. "Boom Boom Boom" ended up being my last track.
All in all, I think that the music was quite good. My colleagues played some great stuff, and the crowd (which wasn't as large as I had hoped, but still big enough for a decent party) seemed to enjoy what we offered.
THE AFTERMATH
After it was over, we all said our goodbyes and I tore down my gear. I ended up getting out of their at about 3:30 AM and got home (after swinging by Whataburger for taquitos) around 4:20 AM. My fever, which had stayed away during the whole evening, returned (a little over 100°) and I proceeded to unload my music and the first load of gear for the car.
I headed back to the IDL Ballroom at 10:00 AM (as I had previously arranged with IDL staff) and picked up the remainder of my equipment. Luckily, over the rest of the weekend, I continued to recover. The fever went away completely, but I had some lingering stomach acid issues (insane heartburn flareups) which I was able to quickly cancel with some ranitidine (Zantac equivalent), which I now believe might be a miracle drug. :) WOW, that fixed things up rapidly. It was amazing.
Overall, this was a bear of a performance in my weakened state, but I was honoured to be a part of it and I was extremely glad that I went through with it. I saw some old friends and more recent friends, and overall, I had fun.
MAJOR, MAJOR, BIG-TIME THANKS go out to Rob, Lynn, Sean, Billy at the IDL Ballroom, and - last but absolutely not least - my wife Lanna for putting up with all of my crap during the weeks leading up to this performance.
I can't say that the experience didn't remind me of how old I'm getting... or how tough it can sometimes be to hold out as one of Tulsa's last remaining "old-school" DJs who prefer to spin real vinyl. However, I don't regret doing it for a second.
That's not to say that I might not have to take another "break" from this whole thing sometime soon. We'll have to see. For the time being, I have no additional performances scheduled for the rest of the year, so I might do some more work on music production or perhaps get back to work on my novel.
I did tell you that I was writing a novel, right?
Badger
(Modified on 2014-01-2014, 10:13 AM. Added an actual link to the setlist. Whoops! DERP.)