Entry One Hundred Seventy-Two.
Tuesday, 2013.09.30, 12:52 PM CST.
Depeche Mode concert #9 (Dallas) with my six-year-old!
Current Mood: Nostalgic but decent..
Current Scent: A*Men by Thierry Mugler.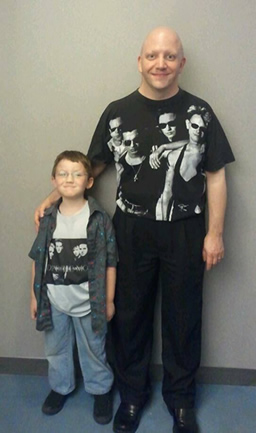 X and I, all dressed up for the concert.
(I'm the one on the right.)
Okay, so in my last blog entry, I talked about my reunion with an old friend and the trip to Houston to see Depeche Mode for my eighth time, on September 18th.
Two days after that trip, I drove to Dallas with my wife and my six-year-old son X to see Depeche Mode perform for my ninth time!
Now, I know what some of you are thinking: Badger, you idiot, you took a SIX-year-old to a rock concert? Well, yes... but it's important to note that X knows and really likes Depeche Mode's music, so he wanted to go. Also, I bought him a pair of Hearos high-fidelity earplugs so that the volume would be lowered for his sensitive ears, but the sound still wouldn't be "muddled." (I used Hearos the last time I went to see Nine Inch Nails. They work really well.)
Lanna, X and I headed out of Tulsa and reached Dallas in plenty of time to check into our room at the Frisco aLoft location (WOW!) then scoot over to the Blue Mesa Grill for dinner with my old DJ mentor, Dave French. It was the first time I'd seen him in about three years,
so that was awesome. It was also the first time that X had ever met Dave, and both of them seemed to enjoy the experience as Dave navigated a weird, complicated maze that X had drawn on his kids' menu.
Then, we headed to the Gexa Energy Pavilion.
(MINOR concert spoilers coming up - all three are "usual" DM staples, but I'll be revealing the last song of the concert, in case that's a big deal for you.)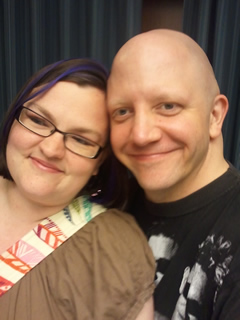 Lanna and I before the concert.
I LOVE the purple streaks in her hair!
X behaved really, really well, for the most part. We were stopped by a number of people in the crowd before the show who were thrilled to see a cute "little" Depeche Mode fan with a miniature DM shirt. (One couple even had me take their picture with him!)
Since he was so short, Lanna and I stood him up on his seat between us and put our arms around him to make sure he wouldn't fall. When he recognized "Walking in My Shoes," he turned to me and gave me a really happy, shocked look.
Then, a couple of songs later, he told me that he wanted to leave. :( I explained to him that leaving wouldn't be possible at this point, and he understood. After that, he occasionally asked to be let down so that he could sit in his seat, then to be brought back up to watch the show. It wasn't too irritating.
About two thirds of the way through the concert, he sat down and started falling asleep. Lanna put her purse across the arm of the seat to use as a makeshift pillow, and X fell asleep right there at the concert! The next song was "Personal Jesus," and he actually slept through that! He ended up missing about about a third of the show.
Luckily, he started waking up just in time for his favourite of theirs - their final song of the concert and the song that got me into DM in the first place, "Never Let Me Down Again."
After the concert, we met up in the parking lot with fellow DM collector/old friend (since 1988!) Jon Prough, his wife Carrie, and their children Cait and Crewe - all of whom were in Depeche Mode-related costumes for the concert. (If you saw the guy in the "servant" outfit, the lady in the "bird woman" mask, the little boy dressed as "King Dave," or the little girl dressed up as "Angel Martin" - those were the Proughs.) X got to play for a bit while Jon and I discussed the concert for a while, then Lanna, X and I went back to the hotel.
Despite the fact that he fell asleep, X said that he LOVED the concert, and "Never Let Me Down Again" and "Walking in My Shoes" were his two favourite parts. :)
The next day, we headed off, did a bit of shopping at Trader Joe's (awesome products and GREAT prices on wine - holy crap!), then went out to brunch at the Blue Mesa Grill (yes, again!) with my old friend Tom "Gilligan" Holbrook and his wonderful wife Mary Ann. It was my first time seeing Tom in about three years, and it was great to catch up for a bit and do a bit of talking about our old days at NSU in Tahlequah.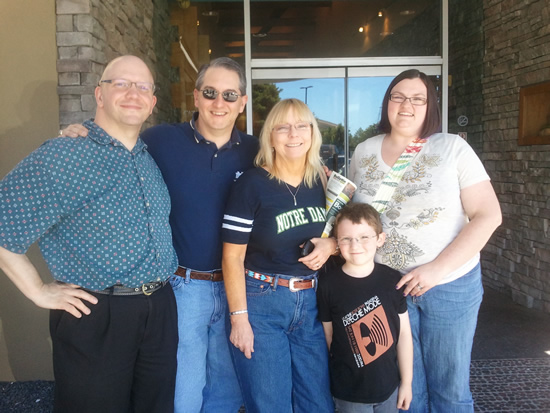 Left to right: I, Tom, Mary Ann, X, and Lanna outside Blue Mesa Grill.
It was a great way to close out a hectic week. We headed back to Tulsa and relieved Lissa (my unbelievably awesome sister-in-law) of her babysitting duties.
I then dedicated about a week to recharging after such an insane pair of trips. :) I think that'll be all of our travels for a little while; I've got lots of stuff upon which to concentrate here at home, including a musical project or two that I'll talk about in the future.
I hope this finds you all doing well; I'll post another update momentarily.
Badger