Entry One Hundred Seventy-Eight.
Wednesday, 2014.03.02, 11:54 AM CST.
When my story ends.
Current Mood: Melancholy but somewhat determined.
Current Scent: Just clean.
When my story ends, bury me in my hometown cemetary, near my mother if possible, or near Mr. Hayes.
Alert those whom I've known fondly, as many as you can. Remember that Gilligan loathes Facebook and will likely never join it.

At the services, I want the following played, if possible:
The Revolutionary Army of the Infant Jesus - "Psalm."
(That can be found on their album Mirror.)
Depeche Mode - "Black Day."
(That can be found on the "Stripped" CD single.)
Depeche Mode - "Death's Door." Use the Jazz Mix, if you can.
(That can be found on the US "Condemnation" CD single.)
On my tombstone, along with whatever typical "Beloved friend, husband, father, etc." text... I want the following: "He did what he could to avoid suffering an ordinary life." This can be on the front of the stone or the back.
Bury me in my grey interview suit, wearing a purple shirt - the old sateen Essante, if you will - with the Robert Daskal tie that I wore to my mother's funeral.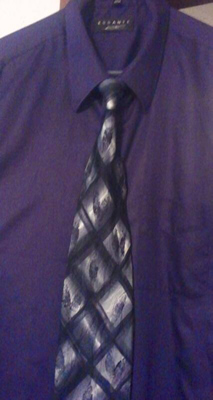 (Tie design by Lofie Knept Sorbale. Picture added 2014.05.09.)

If an open casket is feasible - that is to say, if I haven't been mangled by a car crash or something - then please go with the open casket. Nothing fancy is necessary as far as the casket is concerned; you won't be seeing it for long anyway, and it's stupid to overspend for something so temporary.
Celebrate my life. Eat some Mario's pizza after the services... cheese with an artery-bursting amount of extra cheese and lots of fresh garlic. Say "Hi" to the crew there for me, and assure them that I'll be saying "Hi" to Mike.

See if some of the other local DJs I've known will have a memorial party for me, with lots of 80s music. I want to be missed, and I want to be remembered, but I want people to have fun.
Let my sons know that I loved them; never let them forget that, and never shame them for being weird. It was their destiny before they were ever born, and they will find someday that their weirdness is one of their greatest blessings.
Never forget me. Please.
Thanks,
Badger