Entry One Hundred Eighty-Two.
Monday, 2014.06.09, 10:58 AM CST.
A few more details about my NEW mobile DJ company!
Current Mood: Industrious is the best word that comes to mind... and it's suitable.
Current Scent: The Dreamer by Versace.
I don't know how I did it... I really don't... but I got almost seven hours of sleep last night. Seven hours. That's awesome. These days, I'm lucky to get five. So, seven is practically a miracle, so to speak.
My sons, ages two and seven, are eating breakfast and playing the Wii. I am offering up a cup of sacrifical fair-trade organic Newman's Own (black as midnight on a moooooooonless night, as Agent Cooper would say) to whatever deity/deities have given me this quite awful headache.
(And nope, for those of you who wonder, I wasn't drinking at all last night. This could just be my brain's way of asking me why the Fong I chose to give it seven hours of sleep.)
MORE NEWS ABOUT THE NEW MOBILE SERVICE!
This morning, I'm feeling especially industrious insofar as the new DJ service goes. I've already been working a bit on the website for the new company this morning, and if I do say so myself, it's looking really good. Lots of purple.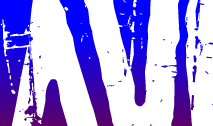 In fact, here's a piece of the logo for it. I'm not ready to reveal the whole thing - or even the company name! - but this will hopefully whet your proverbial appetites.
I hope to give more details soon! I earnestly can't explain to you how excited I am about the new company. This is going to be INCREDIBLE. I'm all kinds of thrilled (obviously), and luckily my wife is being very supportive, even though she has a lot on her plate right now as well.
I'll put forth a lot more details about the nature of the new service in the near future, but here are a few of the key points:
With this service, you'll have the opportunity to hire someone with over twenty-five years of experience in the industry. (Yeah, me.) We will not take your hard-earned money and send out a couple of kids who have only done a gig or two and have no clue about music from more than five years ago. :)
.
Not only will clients get an experienced DJ, they'll get a known experienced DJ. Having a class reunion? You can get someone who's performed on the main stage of 80s Prom. Having a gay wedding? (Okay, it's Oklahoma... having a "commitment ceremony?") You can get someone who's performed at Tulsa Pride.
.
We will offer a mixture of "new-school" LED light effects and "old-school" halogen-lamp light effects for one of the most unique, impressive light shows in the Tulsa DJ industry. In our larger setups, we will offer more light effects than a lot of Tulsa clubs.
.
We will possibly be the only mobile DJ company in our market that doesn't bring a laptop from which to DJ. DJ performances will be done using CDs and REAL VINYL. No, we won't be able to bring half-a-million songs to your event, but at the same time, you're going to pay to have an experienced DJ doing real live manual club-like mixing at your event... not just pushing a magic "sync" button and letting a computer do the work.
.
Whether we're playing older tracks or the latest hits, we will play lots of remixes - good remixes and rare remixes. They won't be random crappy "fan mixes" found on blogs made from "chunks" of good songs thrown on top of a beat loop. These will be the best remixes we can get, often purchased on pristine vinyl for the most old-school club "feel" but still providing exceptional sound quality.
.
We will offer incredible top-tier service for our clients, and - get this! - we will service only ONE CLIENT per day. Some other companies have to juggle a whole team of "DJs" (of various qualities) to meet the needs of a dozen or so "gigs" per weekend. In our case, once we are booked for a day, no other customer will be able to arrange a "second show" for that day.
.
We will dress appropriately for the event. Even back in the EKG Mobile Music days, that was a big deal with me. If you hire us for a wedding, you won't get some loser in a stained Budweiser T-shirt who reeks like an ashtray and cheap cologne.
.
Our price point will be "up there," but not insane. We'll be more expensive than the dreaded stereotypical "Craiglist DJ" and significantly cheaper than hiring Steve Aoki. :)
Okay, that's it... I've gotta get back to work on the site and maybe do some more mixing practice if I get a chance today.
- Badger