Entry One Hundred Eighty-Five.
Thursday, 2014.09.29, 12:05 AM CST.
It's official... I've been DJing for 25 years.
Current Mood: A little tired, and a little frustrated... but accomplished.
Current Scent: Eternity by Calvin Klein.
Well... I haven't blogged in a while. It's been over three months since the last blog entry, in fact. I'm sitting here sipping on a cup of good, black, fair-trade Colombian Excelencia. I really should be working on an extremely special new mix for my Mixcloud page. but my two-year-old son, Atticus, has decided to stay up extra-late.
This means that I am staying up extra-late, and as long as Atticus is awake, I'm not mixing.
Life is strange. Things are going okay, for the most part. My wife has been gradually recovering from her mother's death. I have a new "day job" which will hopefully still allow me to DJ whenever my clients need me to... and I do plan to start taking on lots of new clients very soon. :)
Also, I've performed at two pretty major events since my last blog entry: "That 90s Party" and "The Big End of Summer Luau." I'll give more details about them here very soon.
My biggest news, DJ-wise, is this: My first DJ performance was on September 29th, 1989, at a relatively small homecoming dance for my high school.
That makes today the twenty-fifth anniversary of my first gig.
That means that I can now officially say that I've been DJing for twenty-five years.
That's insane.
I have had some wonderful experiences in my life, but time is cruel... and I often feel like I have let time slip through my fingers. It doesn't seem like twenty-five whole years have passed since I nervously started off my very first DJ gig. Those years have often sped by far more quickly than I've wanted them to.
DJing is still one of my greatest passions, and I look forward to continuing to rock the house at as many events as possible, for as long as I can.
Twenty-five years... that's just crazy.
Massive, massive thanks to everyone who has supported me thus far.
More soon.
Badger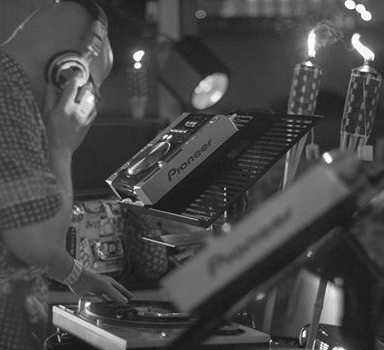 Big End of Summer Luau, September 6th, 2014.
Photo by Brittany Murphy of To the Nines Photography.