Entry One Hundred Eighty-Six.
Thursday, 2014.12.31, 11:18 AM CST.
Ending 2014... and a special tribute to my friendship with DJ TMJ.
Current Mood: A little crazy but hopeful.
Current Scent: The faint remnants of Versace Man by Versace.
I need to post here more. I know. Argh.
2014 was not a brilliant year for me. It had its kind moments; for instance, I had more DJ performances in 2014 than I'd had in any previous year for over a decade. Also, at my "day job," I got a major promotion... one for which I am immensely thankful.
However, 2014 also had its major downfalls. The biggest one, unfortunately, was the unexpected cancer diagnosis and subsequent passing of my mother-in-law. That took its toll on our whole family.
Also, while I made new friends and saw some of my friendships thrive, some of them diminished... and one of them, with another DJ colleague and friend for nineteen years, appears to have dissolved right before my eyes, just a few days ago, due to a stupid argument on Facebook.
So, yeah, there's that.
I'm glad to be all-but-finished with 2014, and I'm looking forward to what 2015 will bring.
---------
This morning, I'm drinking an outrageous homemade gingerbread latte. A nearby candle smells almost exactly like the air freshener that my old friend Tim (DJ TMJ) used to use in his room back in the mid-1990s. (He had a pet iguana, and whatever it was that he used to mask the scent, it was quite nice.)
I mention Tim for a major reason: As of this month, we've been friends for twenty years.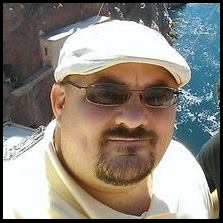 An undated photo casually swiped from Tim's Facebook.
Back in 1994, I was a different person. I'd dumped my girlfriend in August after finding out that she'd been engaged to another guy for the entire length of our relationship. I'd had to leave Northeastern State University after the spring semester after suffering a few personal breakdowns and failing a few classes... so, in the fall, I started continuing my college path at UCAT - the University Center at Tulsa, now known as OSU Tulsa.
I loved playing computer games - especially "Doom" and its many imitators. I had also been using the Internet for a little over a year (this was a couple of years before it really became popular), and I was hooked on interacting with others via UseNet News as well as the Internet MOOs, little text-based virtual societies such as LambdaMOO, OpalMOO, and PMC (Post-Modern Culture).
For context: The latest Depeche Mode album was 1993's Songs of Faith + Devotion, and their latest single was "In Your Room," released in early 1994. It was the last single released before Alan Wilder left the group in 1995.
-------
I digress. Basically, I was in my element at the time - a musically-obsessed geek with very few friends, awkwardly making his way through his first semester at a new college.
And, I was DJing - a LOT - with my first mobile DJ company, EKG Pro Mobile Music, which I had started five years prior.
One day in the late fall, I received a call from a young lady from East Central High School. I don't remember her name, unfortunately, but I remember one particular detail about the call: after we discussed their forthcoming holiday party and confirmed that they wanted to book me for the performance, she asked, "Is this Badger from the Edge of Insanity?"
It was a flattering question. I had left the Edge of Insanity radio crew (later known as the "EOI Network") in the spring of 1991. I was kind of shocked that someone remembered me over two and a half years later. (As it turns out, to this day, people still remember me from the EOI.)
So, I told her that I was indeed that guy, and thanked her for asking. I figured that was that.
What I didn't know was that she then relayed that information to someone else in their student council, a young lady named Lori, and Lori relayed the information to her boyfriend, a guy named Tim.
Tim wasn't just a fan of the old EOI... he was also a massive fan of Depeche Mode, and he was just starting out as a DJ.
So, that night, as I was performing, I had this odd fellow come up and start talking to me about the EOI and Depeche Mode. It became evident that he knew his stuff. invited him to stick around after the show, and as my team and I tore down our equipment, we discussed DM's 1993 Devotional Tour, their 1994 Summer Tour, and lots of other stuff related to our shared favourite group.
He gave me his number and I probably just shoved it into my wallet.
Later in December, I received a package in the mail from a dealer I'd found on the Internet. For a mere $28, I received a low-quality VHS copy of the leaked-and-to-this-day-never-commercially-released Broken movie by Nine Inch Nails' Trent Reznor and Coil's Peter Christopherson.
I'd heard that it was sick. Really sick. I slipped into my computer room and started it playing on the tiny little TV I kept in there... and I watched this piece of work. For the first time in a looooooong time, I found myself cringing and fast-forwarding through parts of it. It was twisted. It was horrific. It was extremely graphic, and it was AWESOME.
I called up Tim. I asked him if he wanted to get together and watch the infamous Broken movie. He did so, and we started getting together for movies and gaming.
In early 1995, I started hanging out with Tim and his friend Chris at their work - a kickass little video store called Critic's Choice at 31st + Harvard in Tulsa, from which I hadn't rented since leaving the University of Tulsa in 1991. (As anyone who was a customer at Critic's Choice can agree, it was SOOOO much better than any Blockbuster ever was.)
I soon adopted a routine of dropping by the video store after my UCAT college courses, so I became a regular there. I wasn't working. I wasn't renting much. I was just hanging out... and I kept up that routine for YEARS until the place shut down in 1997. I would often go out with Tim and Lori to eat after Critic's Choice closed at midnight.
I didn't have a girlfriend again until 1998, but they witnessed a few of my unsuccessful dating attempts. I basically hung out with Tim and Lori as a weird, platonic third wheel, and I was accepted as a friend. I was fortunate, and I knew it; I even remember looking back through the shelves of the old video store one night after the doors were locked, as we were getting ready to head off (probably to Village Inn or Denny's) and thinking specifically about how lucky I was to have friends like these.
-------
I collected a ton of great memories during those years, but here are some of my favourites:
One night, after a trip to Mohawk Music, I shoved a piece of shrinkwrap into my pocket before heading over to Tim's. As we were hanging out, he stepped away to get a drink, and I picked up one of his prized possessions - a still-sealed VHS copy of the Star Wars trilogy - and pulled the extra shinkwrap from Mohawk out of my pocket, letting it dangle from my hand as if it had just been pulled off of the VHS set.

I then waited for him to walk back in, and when he did, I held up the tapes, asking something like, "Hey, Tim, do you mind if I..." and then, I just stopped.

I watched the blood drain from his face for a few moments as I'm sure he contemplated punching or shanking me.

I then quickly pulled the spare shrinkwrap away, explaining that it was all just a goofy joke.

(That is probably my favourite story about my friendship with Tim ever.)
. .
. .
.
Tim and I quickly found that we were both BIG fans of director Kevin Smith. At one point early in our friendship - so early that Tim might not have known that I was 100% hetero - I ordered two signed Mallrats movie posters from Kevin Smith's web shop, one for myself and one as a surprise for Tim. Back then, you could pay a little bit more money and Smith would personalize the posters for you. I noted in my order that Tim lived with his parents at the time, asking that whatever Smith wrote be clean - but funny.

When the posters arrived, I opened mine up to find a wonderful tribute from Kevin Smith to me, declaring me to be his "first Okie fan." Brilliant.

I then pulled mine aside to look at the poster I'd bought for Tim to find that Smith had written the following:

"Tim, Badger Bill has a crush on you. Watch your back, man."

HILARIOUS. However, I then had to figure out a way to give the poster to Tim as a surprise without him thinking that this was supposed to be anything more than a joke.

I fumbled my way through a makeshift explanation ("This doesn't really mean what you might think it means!" or something like that) before handing Tim his rolled-up Mallrats poster. He slowly rolled it down, read the top silently, then looked up at me.

"Is that Kevin Smith's signature?"
"Yep."
"Cool."

No further explanation was necessary!
. .
. .
. .

In early 1995, shortly after our meeting to watch Broken, I showed up at a DJ performance of Tim's at a University of Tulsa fraternity. I brought some rare remixes on vinyl and he let me step in and DJ for a bit. However, when I picked up his headphones and attempted to put them on, I accidentally snapped them, right at the top, into two pieces. I was mortified.

That reminds me... I think I still owe him a pair of headphones.
. .
. .
. .

Later in 1995, I had a DJ client request some music by Portishead. I wasn't very familiar with them, so I asked Paul over at Mohawk Music about them. He let me listen to their store copy of Portishead's debut album, Dummy, and I was hooked before I even finished the opening track. (Dummy is still one of my favourite albums of all time, by any artist from any genre. It's a masterwork.)

Shortly after that, I picked up "Doom II" for my PC, and shortly after that, Tim and I started playing it together over our dial-up Internet connections.

For a while, it became a nightly ritual: I would sit there at my computer, snacking down on countless pistachios (roasted and salted, not the nasty pinkish-red kind) while listening to Portishead on repeat and playing various modded levels of "Doom II" with Tim until the insanely wee hours of the morning.

We ended up doing something similar in 1999/2000 after the release of "Quake III." :)
. .
. .
. .

In the fall of 1996 or 1997, I decided to have a special "movie party" with some friends to watch a few cult classic films like Peter Jackson's Bad Taste (one of my favourite films of all time). I let a few people know about it, but when the night arrived, there were exactly two people who showed up: Tim and I! Whoops! Oh, well... We went ahead and watched the flicks by ourselves and still had a great time.
I could go on and on. Tim and I haven't had the perfect friendship - there was at least a time or two during which we didn't talk for a while. However, we always somehow found the way to start chatting again.
Obviously, for those of you familiar with my production work, Tim has been more than a friend, but a trusted musical colleague, remixing and co-producing (as "DJ TMJ") with me on numerous occasions.
Tim and Lori got married close to a decade ago. We don't see each other nearly as often as we used to; two or three years back they moved away to the Oklahoma City area, and most of our communication after that point has been through Facebook. However, I consider him one of my best friends, and I wanted to pay special tribute to him here.
It's extremely hard to believe that he and I met twenty years ago this month. Time, as they say, flies... and time, as I often say, is cruel.
Thanks for the memories, Tim. You've been the Abbott to my Costello, the Hardy to my Laurel, and even the Art Garfunkel to my Julian Sands a time or two. I look forward to seeing you again very soon.
More soon, everyone. More soon.
Badger