Entry Two Hundred Twelve.
Monday, 2018.01.15, 3:16 PM CST.
The "Totally Awesome 2018" New Year's Eve party was, well, totally awesome.
Current Mood: Doing quite well, thanks.
Current Scent: Sung Homme by Alfred Sung.
Hello again, everyone.
It's hard to believe that we are already fifteen days into the new year! Time is just flying by. I hope you've all had a good 2018 so far.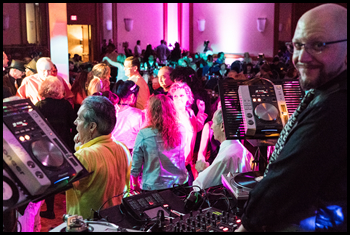 I wanted to post for a bit about the "Totally Awesome 2018" party at which I performed on New Year's Eve. It was my first time DJing at a NYE party in years upon years, and I'm happy to report that it went great. Actually, beyond great. Spectacular. Amazing. AWESOME.
If you don't read this whole thing, the main takeaway is this:
I had more fun DJing at the "Totally Awesome 2018" party than I'd had at a performance in years. I felt extremely lucky to work with the gentlemen from 100.9 as well as light/sound provider Integrity Lighting, and overall, it was an incredible experience.
The personal significance of the 80s...
As many of you know, I've been a fan of 1980s music and culture for a mighty long time. (Specifically, since the 1980s.) I specialize in retro parties. I love a lot of old 80s films. I'm a bit known for having one of the biggest collections of Atari 2600 cartridges in my area.
It's easy for me to be a bit obsessive about 80s music for a few reasons. I was born in 1971, which means that I underwent my precious teenage years right there in the 80s, graduating from high school in 1990. I first really started getting into "modern" music with the work of Tears for Fears in 1985, then Duran Duran in 1986, then Depeche Mode (which ultimately became an obsession for the rest of my life) in 1987.
And, as lots of you know, I learned how to DJ starting in 1988, and I was lucky enough to start my first DJ company, EKG Mobile Music (later, EKG Pro Mobile Music, Light, and Laser Show) in 1989.
I got my first 12" vinyl single in the spring of 1988. (For those who are curious, I'm pretty sure it was DM's "Behind the Wheel"/"Route 66" megamix on Sire Records.) I went to my first club, Tulsa's Beat Club (okay, not quite legally) in 1988.
So, as the old saying which is probably copyrighted by VH1 goes... "I love the 80s."
Two "Awesome" companies...
In March of 2015, after years of planning, I finally knuckled down and launched a new mobile DJ brand called Awesome Retro DJ Service. In August 2016, 100.9 FM switched from KXOJ to KTSO and changed to an all-80s format, now known as 100.9 Totally Awesome 80s.
At first, I was skeptical. I figured that it was probably being brought to Tulsa by a huge corporation like Clear Channel (it wasn't), and that all they would be playing would be the standard 1980s pop artists- Michael Jackson, Madonna, Cyndi Lauper, George Michael, Culture Club, etc.
I was so, so wrong - and so happy to have been wrong. Sure, I was hearing plenty of classic 80s hits, but as time went on, I heard tracks that I hadn't heard for years - like "In a Big Country" by Big Country and "Sister Christian" by Night Ranger. I kept being surprised by the selections, and in addition, 100.9 started adding special programs like classic 1980s' recordings of "America's Top 40" with the late Casey Kasem. WOW!!
100.9 Totally Awesome 80 quickly became my favorite Tulsa radio station.
Plus, despite our similar names, there was no drama. Awesome Retro DJ Service and 100.9 Totally Awesome 80s were not related in any way, but we knew about each other, and we coexisted harmoniously. It was (and has continued to be) wonderful in that regard.
A chance discussion with Robbo...
In late 2017, I reached out to my colleague Robbo to see if he might like to perform at my "Party Player One" event later this year. He was unfortunately busy, but then we got to talking about this "Totally Awesome 2018" party. He got me in touch with Bob Thornton from 100.9, and we made the arrangements that ultimately led to my performance at the New Year's party. Although I had traditionally spent New Year's Eve with my family and hadn't performed at a NYE party for several years, this was an opportunity that I simply couldn't pass up.
The end result.
The party, held at the Doubletree Hotel at Warren Place here in Tulsa, was a lot of fun. I met the legendary Chuck Stevens and Kent Jones, who teamed up to MC the event. From Bob, Chuck and Kent to all of the other staff from 100.9, they were class acts across the board, and it was a privilege to work with all of them.
In addition, I had my first experience working with Tulsa's Integrity Lighting, who handled the PA system and most of the lights. Just like with the 100.9 team, they were seasoned professionals, and great to work with.
Everybody worked together really well, and once the party got started, the crowd was wonderfully reactive. Everyone seemed to be there to have a good time, and from the looks of the frequently-packed dance floor, they were certainly doing so. I was even getting high-fives from random people in front of the stage. I was thrilled with how well it all went; it was one of my most successful performances ever, and I had a blast.
Major thanks to everyone involved!
I'd like to extend a massive amount of gratitude to Bob, Chuck, Kent, Bobby, and everyone else who was there from 100.9 that evening, to Pete and his staff from Integrity Lighting, to Tina and David at the Doubletree for all of their assistance, and to Robbo for getting Bob in touch with me. I was delighted to be chosen for this event, I cannot overstate how much I appreciated the opportunity, and I would be totally geeked to perform at "Totally Awesome 2019."
More soon... thank you very much!
- Badger
(Photo courtesy 100.9 Totally Awesome 80s' website, totallyawesometulsa.com.)