Entry Two Hundred Sixteen.
Sunday, 2018.07.08, 12:46 PM CST.
30-Years-in-the-DJ-Industry Party - July 14th - with DAVE FRENCH!
Current Mood: Determined.
Current Scent: Basala by Shiseido.
Hello, everyone.
As many of you know, I reached the 30th anniversary of my introduction to the DJ industry on February 13th. I still cannot completely fathom that I've gotten past 30 years.
A QUICK CLARIFICATION:
One thing I want to emphasize right away, because I haven't meant to promote any confusion:
I HAVE NOT BEEN
"DJING FOR THIRTY YEARS."
I'm not angry about it or anything, but I want to empasize it for the sake of clarity.
I started DJing, personally, on September 29th, 1989.
I started assisting Dave French at his Mirage Production events on February 13th, 1988.
So... I've only been involved in the DJ industry for 30 years. I've technically been DJing for a little under 29 years.
Since I'm reaching "30 years of DJing" next fall... will I have another big party for that anniversary as well? Who knows? I can say that I'd love to, but there are no solid plans for it yet.
THIS YEAR'S PARTY - JULY 14TH - with special guest DJ DAVE FRENCH!!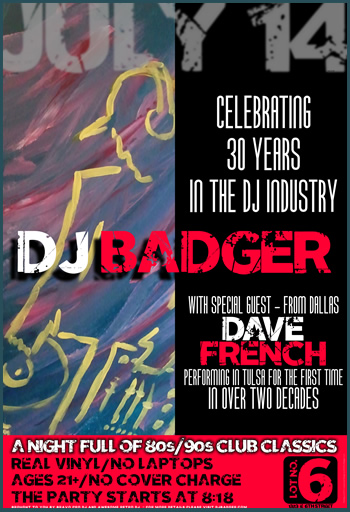 Earlier this year, I reached out to Dave about the fact that he had brought me into the world of DJing 30 years before, and asking him to DJ at a celebration in Tulsa.
Mind you, I had already asked him a couple of years ago, at his wedding reception... and he told me that he had "retired" from DJing and was done with it, but thanked me for the offer. (Dave is currently extremely busy running his own video production company in Dallas.)
This time around... he didn't respond for a while, and then one day, I received a response: Considering these special circumstances, he would travel to Tulsa and perform here again, for the first time in over twenty years, for this celebration.
Holy crap.
So, we nailed down a suitable date, July 14th, and then he dropped another awesome bombshell on me:
DAVE WAS OBTAINING TECHNICS 1200S TURNTABLES FROM A FRIEND SO THAT HE COULD PRACTICE HIS VINYL MIXING.
WOW.
Since then, he and I have kept in touch, of course. I told him that I would supply any records he needed. He sent me a list of tracks that he would love to play from back in the day, and then a while later, I sent him a list of over eighty songs that I would have ready for the evening (far more than we'll actually be able to play during the six hours of the event). I'm still adding onto that list as we move towards the 14th.
Also, on June 24th, he managed to surprise me again when he posted about the event to his friends in Dallas, vowing in writing that after this one performance with his "lifelong friend" (aw, shucks), he was retiring for good and would never perform as a DJ again:
"One night only folks! If you remember or have never witnessed... please join us for my FINAL DJ show. I have attempted to retire a few times but for my life long friend I will be spinning one final set. July 14th in Tulsa OK."
That makes the whole thing a bit more bittersweet. I am extremely honored and excited that he will be performing with me, yet I am saddened that this will be the one and only time that he and I will ever perform together.
That's right... despite our almost forty-year-long friendship, and despite the fact that he taught me how to DJ in the late 80s (as I've said before, his influence and actions honestly changed my life), we never worked behind the decks at the same time. This will be the first time, and from all indications, the final time.
Track-wise, we're looking at a late-80s/early-90s club set. Yes, we'll be playing plenty of the expected retro-night standards by Depeche Mode, Front 242, Erasure, New Order, Ministry, etc. However... we'll also be playing some tracks from the old club days that don't get played much anymore - songs like "Rhyhm Is a Dancer." "
I've done a lot of performances this year, and I've still got several up my sleeve for the second half of the year. However, I am certain that on a personal level, this will be my most cherished event.
If you have ever enjoyed any of my events, my sets at other promoters' events, my mixes on Mixcloud, or even just my posts on Facebook, I would love to see you at this event. Come celebrate with me.
You can get even more details and RSVP at the event page on Facebook.
Thank you very much,
Badger
Badger - 30 Years in the DJ Industry Celebration
Lot No. 6
1323 E 6th Street, Tulsa
(Just east of Peoria on 6th Street)
2018-07-14
Music starts at about 8:18 PM