Entry One Hundred Thirty-Eight.
Thursday, 2011.06.09, 8:56 AM CST.
Duran Duran follow-up. (I got to see them live... in Thackerville!)
Current Mood: Really not too bad. Current scent: Eternity by Calvin Klein.
Sorry about how long it's been since I posted. I just kept putting it off and putting it off. I did keep updating my Facebook page, at least. Before I go any further, here are few more old-song correlations that I've noticed from Duran Duran's "All You Need Is Now" album. (The first list of correlations was in my previous post.)
To me, "Too Bad You're So Beautiful" and "Runway Runaway" have both become more and more reminiscent of "Last Chance on the Stairway."
.
In "Other People's Lives," the part that includes the lyrics "in the magazine / staring out at me" reminds me of "Meet El Presidente" from Notorious.
.
The "Da-da-daa-da" portion in "Networker Nation" is not only reminiscent of "Hungry Like the Wolf," like I mentioned last time, but also of the ending of "Rio."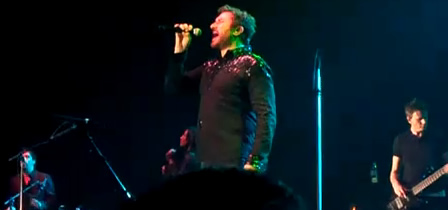 Like I mentioned previously, I was a huge fan of "old" Duran Duran, but somehow I never got around to seeing them live. They were in my personal mental list of "bands I still want to see perform in person" (which still includes Portishead, the Cure, and others).
Then, for some reason that I still don't understand, Duran Duran decided to perform a show on March 18th in Thackerville, Oklahoma, at the WinStar World Casino on the Texas border. That's right... not Dallas, not Oklahoma City, not Tulsa... Thackerville.
Now, this was especially weird because despite their age, Duran Duran aren't really a "casino band." They're old, but they can still command a decent stadium-sized audience - kind of like Depeche Mode or the Cure. Duran Duran normally do not work the casino circuit. :)
Well, I found out about the Oklahoma show via Facebook and managed to grab exceptional seats, just barely behind the VIP section.
On the 18th of March, Lanna and I drove down to the WinStar, and unfortunately, we got held up by traffic just as we neared the casino. Then, I realized that I had misplaced my driver's license (I'd left it in the other car during a bank transaction!), but luckily the casino accepted my credit card and Lanna's driver's license to verify our address and identity. It was SO strange to be in a casino, walking among the various "casino people" (you know what I mean!) and being there to see a band like Duran Duran.
We missed the opening song, "All You Need Is Now," and got there somewhere around the middle of "Being Followed." I'm pleased to say that the setlist had some major surprises, the biggest of which was "Friends of Mine" - one of my favourite tracks from their debut album which was never released as a single, so only the really hardcore fans would know it. (Depeche Mode could learn a lesson from this, since their last concert was pathetic.)
Luckily, at no point during the show did the band play any of the songs from albums such as Medazzaland, Pop Trash, or even their next-most-recent effort, Red Carpet Massacre. Astronaut only got one track on the setlist, "(Reach Up for the) Sunrise." The rest of the tracks were either new songs to promote the new album, or songs from 1993 on back. That pleased me greatly.
Overall, it was a pretty good show. There were no big concert projections behind them and the stage was a little small, but it was fun. Simon still showed that he had plenty of energy, running around the stage as he belted out the tracks and mentioning witty things here and there between songs... but I have to say that things were a tad cringeworthy toward the end of the show, hearing him yell to the ladies of the audience, "Just for tonight... WHO'S your ****in' DADDY?" Ha ha...
It was far from the greatest concert I'd ever seen, but it was highly enjoyable and I'm glad that I went. I can finally cross Duran Duran off my "to-see" list.
Here's the tracklisting, for those who are interested:
"All You Need Is Now" (from All You Need Is Now). (We missed this one.)
"Being Followed" (from All You Need Is Now). (We missed part of this one.)
"The Reflex" (from Seven + the Ragged Tiger).
"Notorious" (from Notorious).
"Safe (in the Heat of the Moment)" (from All You Need Is Now).
"Friends of Mine" (from the debut Duran Duran album).
"Leave a Light On" (from All You Need Is Now).
"Ordinary World" (from the 1993 Duran Duran album, aka "the wedding album).
"Mediterranea" (from All You Need Is Now).
"Girl Panic!" (from All You Need Is Now).
"Careless Memories" (from the debut Duran Duran album).
"(Reach Up for the) Sunrise" (from Astronaut).
"Wild Boys" (from Arena).
"Rio" (from Rio).
ENCORE:
"A View To A Kill" (from the soundtrack of A View To A Kill).
"Girls on Film" (from the debut Duran Duran album).
(It's worth noting that this massively-long encore version of "Girls on Film" also included an interpolation of the Undisputed Truth's "Papa Was a Rollin' Stone").
More posts very soon... Thanks for reading!
Badger