Entry One Hundred Eighty-Four.
Thursday, 2014.06.26, 3:15 PM CST.
My mother-in-law is gone.
Current Mood: Ups and downs and sympathies.
Current Scent: Blu Notte pur Homme by Bulgari.
Well, it was crazy: on Monday, I finished proofreading my last blog entry about my mother-in-law's failing health, and no more than thirty seconds later, I received a message from my wife at the hospital:
"Mom's gone."
Today, we held the memorial service for my mother-in-law. May she rest in peace.
Obviously, our family is in a state of mourning and recovery for the time being. Major appreciation goes out to those friends of ours who have already expressed their sympathies.
I will post again soon, including more details and pictures from the "Back to the Prom" event. Thanks again.
Badger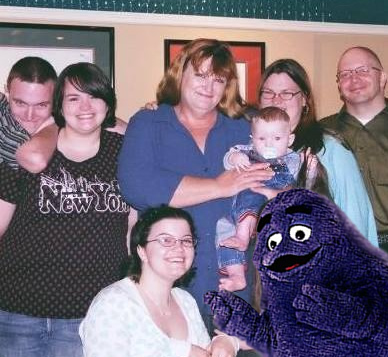 Family members shortly after the birth of my older son X in 2007.
Top row, left to right: Floyd, Lissa, Leanna, X, my wife Lanna, I.
Bottom row, left to right: Lorra and Grimace (not actually a family member).