Entry One Hundred Fifty.
Friday, 2011.12.09, 3:52 PM CST.
The Fall 2010 Chronicles, Part V: Meeting Nitzer Ebb.
Current Mood: It feels like I'm juggling pieces of my sanity sometimes... but I've seen worse days.
Current Scent: L'eau D'Issey by Issey Miyake.
As I stated in the last Journal Entry, the SRO25 event was an INCREDIBLE two-night party. On the first night (November 26th, 2010), I got to meet Sanchez, a DJ that I'd admired over two decades before. On the second night, I got to meet two British gentlemen from one of my favourite industrial acts of all time, Nitzer Ebb.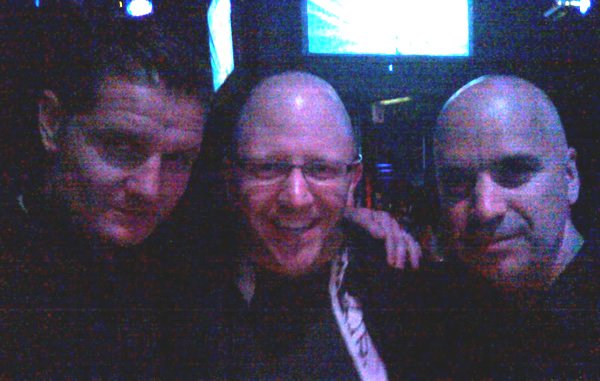 From left to right: Doug McCarthy, one extremely thrilled Badger, and Bon Harris.
Now, I realize that a lot of you have no idea who Nitzer Ebb (which I pronounce NIGHT-zer ebb these days) are. Here's a bit of humourous history:
TRACKING DOWN "MIXER F."
Waaaay back in 1988, the first year that I was getting involved in the DJ world, my DJ mentor, Dave French, told me about this song that he'd been hearing in the clubs. Neither he nor I knew what the song was called, but he knew that it was just incredible... with a hard electronic beat and simple lyrics that were repeating things like "Work! Work! Work! Work!" and "Church! Church! Church! Church!"
I knew that I had to get this song... but I had no idea what the title was, nor who performed it.
Well, one evening, I was at Sound Warehouse (I forget which location... maybe 31st Street? It was definitely not the Cherry Street location), and I asked a cute Asian employee behind the counter who did this song that had these lyrics, and she said "Nitzer Ebb" (which she pronounced NITT-zer ebb). She was saying this with a lot of loud music playing in the background.
I really, truly thought she'd said "Mixer F."
So, I went to work trying to find this mysterious song by a band called Mixer F, hunting wherever I could and asking around like a complete idiot. (This was before I had Paul at Mohawk Music at my disposal; he would have known it in an instant.)
I eventually somehow found out the real name of the band, and - not being able to find the "Join in the Chant" single - I picked up a domestic 12" single for a song called "Murderous," with "Warsaw Ghetto" on the B-side. I consider this to be the first real industrial 12" I ever purchased.
I loved it. I didn't enjoy it as much as I enjoyed the work of Depeche Mode (with whose music I was growing more and more obsessed), but it was quite good. Soon after, I FINALLY tracked down "Join in the Chant," as well as some of the Belief-era singles by them like "Hearts + Minds" and "Control I'm Here," and added them to my collection ASAP as well.
SEEING NITZER EBB, 1990.
So, eventually 1990 rolled around, and with it came the album Showtime, providing now-classic singles like the incredible "Lightning Man," "Fun To Be Had" and "Getting Closer."
On July 8th, 1990, I joined a group of friends including Dave, Gerard, and Kelly from my old high school to see Depeche Mode perform live at the Starplex Ampitheatre in Dallas, Texas. The opening act was none other than Nitzer Ebb.
Despite Nitzer Ebb's club hits, they were not nearly as well-known as DM. So, in our little group inside this sea of concertgoers, Dave and I were standing there loudly chanting along with the lyrics to "Join in the Chant," while a great deal of the thousands upon thousands of people around us had no idea who they were. It was rather exhilirating.
AS IS, EBBHEAD, AND BIG HIT...
In the summer of 1991, Nitzer Ebb released a four-track EP entitled As Is, followed by a single called "I Give To You" - arguably their most melodic single with some wicked strings in the background, and easily one of my favourites by them. It didn't hurt that one of the producers of "I Give To You," as well as the other tracks on NE's Ebbhead album - was Alan Wilder of Depeche Mode. Needless to say, I found myself a huge fan of Ebbhead, and looked forward to what they had in store next.

Big Hit, featuring the addition of new Nitzer Ebb member Jason Payne, followed in the late 1990s. It was almost like Nitzer Ebb's version of a rock album... and for the most part, it really, really sucked.
After that, Nitzer Ebb faded away and broke up... for about a decade.
INDUSTRIAL COMPLEX AND THE SRO25 EVENT....
In the mid 2000s, Doug and Bon reunited and eventually started doing live shows again. In 2010, they released an album I certainly didn't expect - Industrial Complex, which amazingly turned out to be my favourite album of theirs so far. They even got to tour with Depeche Mode again during the early 2010 leg of DM's abysmal "Tour of the Universe."
However, their reunion was only a precursor to the most shocking news about the SRO25 event: The second night of the party would include a LIVE performance by Nitzer Ebb.
The event (held at the club known as "Junkie Live" - as of this writing, it's called "Red") was miniscule compared to normal Nitzer Ebb events. Only 200 tickets were offered for the second night, and I'm pretty sure they didn't sell out. My friends Jon and Carrie Prough came down from Oklahoma City for the second night, and as Nitzer Ebb - Doug, Bon, and Jason - took the stage on the venue's tiny, tiny stage, my friends and I were right up at the front, only a few stairsteps away from the band. It was the closest I have ever seen a major electronic act, and it was AMAZING.
They worked through a remarkably large set, covering hits from most of their career (but, if I recall correctly, nothing from Big Hit, ironically). "I Give To You" was featured as an encore, and you can imagine how geeked I was about that!
After the show, I hoped to meet Doug and Bon... but the only one I saw was Jason Payne. I mean no disrespect to him, but I had brought three records (out in the car) that I wanted signed by Nitzer Ebb... and he wasn't on any of them, and thus I really wasn't interested in his signature on them. So, I skipped him, chatted with Sanchez for a while, and hung out with my friends.
Then, a bit later, a new friend I'd met at SRO25, a wonderful young lady named Ariel, asked me if I'd met the band yet. I asked her if they were in the building, and she explained that they were actually on the opposite side of the club and were openly meeting people! She and I dashed out to my car, grabbed my vinyl, and ran back in. Jason was no longer around, but Doug and Bon were... and after admiring their work for over 20 years, I finally got to meet them.
I'm happy to report that they were both extremely cordial. I explained to them that the last time I'd seen them perform live was in 1990, and that this meant a lot to me. Doug explained that they still did shows like this for the "hardcore fans" like myself, and he seemed extremely genuine when he said that. It meant an awful lot.
Furthermore, they were both VERY happy to autograph the records ("Join in the Chant," "Lightning Man/Shame," and "I Give To You") and upon seeing a much younger picture of them on the 1991 "I Give To You" single, Doug even nudged Bon with his elbow and smiled, as if he was pointing out how much more muscular Bon had looked back in the day.
After getting their autographs, getting my picture taken with them, and wishing them a safe journey, I returned to my friends and, soon after, headed home. It was not an experience that I can foresee myself forgetting anytime soon.
More later...
Badger