Entry One Hundred Seventy-Four.
Thursday, 2013.10.17, 2:48 PM CST.
Regarding Depeche Mode's "But Not Tonight."
Current Mood: Not as productive as I'd like, but surviving.
Current Scent: A*Men Pure Coffee by Thierry Mugler.
*** WARNING: This blog post contains possible spoilers for those of you who are still looking forward to shows on Depeche Mode's current Delta Machine Tour. ***
So, yeah... There's this song called "But Not Tonight" by Depeche Mode. Last month, it became one of my favourite DM songs of all time. Here's why.
As many of you know, I first "got into" Depeche Mode when I heard the single "Never Let Me Down Again" in late 1987. I received a copy of Music for the Masses as one of my stocking stuffers for Christmas, and then I started collecting Depeche Mode's earlier albums, starting in very early 1988, all on cassette at first.
The 1986 album Black Celebration quickly became a favourite, and the closing track - "But Not Tonight" - was beautiful. It was an uplifting song, unlike most of the rest of the album which was much darker and somber in tone. What I didn't realize at the time was that Sire, their US record company, had made the choice to stick "But Not Tonight," a B-side, onto the end of the album. The album was actually meant to close with the cynical "New Dress."
Yep, "But Not Tonight" was the B-side to "Stripped," the first of the three singles from that album and a track generally considered by fans to be one of Depeche Mode's masterworks. Countries around the world got the "Stripped" single. It was released in the UK, Germany, Japan, Spain, Australia, and even Zimbabwe, among other countries...
However, the US didn't get a "Stripped" single. We got a "But Not Tonight" single.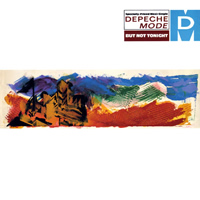 So, why would Sire release a US "But Not Tonight" single with "Stripped" as the B-side, as opposed to the other way around? Well... "But Not Tonight" was featured in an American movie. Martin Gore explained it thusly:
From VOX Magazine, "Devout Moded" by Martin Townsend, February 1993:
...although their boss at Mute Records, Daniel Miller, will drop by during recordings and offer advice, neither Gore nor the others are bullied by record company interference.

"The last time that happened at all, I think, was in 1986 when our American record company (Sire) made us flip 'Stripped', which we'd spent three weeks perfecting - for the B-side, 'But Not Tonight', which was a throwaway thing we did in a day, because there was some naff film, called Modern Girls, that wanted to use it. It bombed, they lost our respect and that was it."
Okay. That last line was important. They lost our respect. The band thought so little of the "throwaway" track "But Not Tonight" that Sire Records "lost respect" by using it as the A-side.
So, it didn't seem like the band merely weren't big fans of the song... from all indications, they really didn't like it.
It didn't stop them from recording a music video for it, though.
Despite their disdain for it, it really was a damn good song... and a lot of the really longtime, hardcore fans loved that oddly uplifting B-side.
However, we knew that we would never get a live performance. That would just be preposterous! Although they never said it, it was pretty much common knowledge that Depeche Mode would never perform this song that they disliked so much, not under any circumstances.
Then, on April 26th of this year, over twenty-seven years after the song was originally released, at a tour promo performance at the tiny Troubadour club in Los Angeles, this happened:
Martin Gore came up for his slow song of the evening and announced with a laugh,"We've never played this one before... probably for good reason." What followed was their first live performance of "But Not Tonight" in their history - only performed as a ballad, with Martin on vocals, as opposed to Dave Gahan, who had sung the studio version.
As you can hear in the video, the crowd FREAKED OUT when they realized what they were hearing.
Since this was a special promotional performance, though, fans weren't sure if "But Not Tonight" was going to be repeated over the course of the band's 2013 Delta Machine Tour.
I tried my best to avoid tour spoilers, but I heard about at least one or two cities during the tour who got to hear "But Not Tonight" before DM got to their Houston/Woodlands performance, where my once-estranged college friend Tiff and I got to see Depeche Mode perform together on September 18th.
As I explained in my last blog entry, the first slow song that Martin performed at the Woodlands performance was the rather terrible new song "The Child Inside." Tiff and I endured it.
When the second song started, I was beyond thrilled, and so was she. She had been a Depeche Mode fan for as long as I had (possibly even longer) and knew the song very well. I stood there in amazement, listening to Martin perform this right in front of my own eyes, and tears just started rolling down my face.
I looked over to my left and saw that Tiff was crying, too. Considering the history of our friendship - two very close friends brought together by our love for this band's music, then torn apart, then reunited after not seeing each other in twenty years - this point of the concert was the pinnacle of the experience for us.
As if I were not lucky enough, at their next performance two days later in Dallas, Martin chose to perform "But Not Tonight" AGAIN, with my wife, my older son and myself in attendance! I couldn't help but get teary-eyed all over again. It was beautiful, and reminded me far too well of those old days in which I had first started collecting DM's work.
As it ended up, "But Not Tonight" was performed at a great number of the concerts on the "Delta Machine Tour," but not all of them. I feel very fortunate to have been able to hear it performed twice in person.
The song has earned a place among my absolute favourite Depeche Mode songs, which are now as follows:
"Never Let Me Down Again."
"Ice Machine."
"Walking in My Shoes."
"Stripped."
"Black Celebration."
"Alone."
"But Not Tonight."
More soon!
Badger