Entry One Hundred Seventy-Three.
Monday, 2013.10.14, 3:51 PM CST.
Track-by-track review of both Depeche Mode "Delta Machine Tour" concerts.
Current Mood: Not the most encouraged, but considering my efforts somewhat fruitful.
Current Scent: Ulysse by Vicky Tiel.
Well, I've had a bit more time to recover from my trips to the Woodlands (Houston) and Dallas a few weeks ago, and it's (past) time for me to do a full rundown of the setlists that we got at each concert.
There was actually only one song change between the two shows, so I can cover both in one post easily.
Obviously, if you are going to any forthcoming DM Delta Machine concerts, this post will contain spoilers aplenty.
***REPEAT: WARNING! SPOILERS***
Ready? Okay... here we go.
1) "Welcome To My World."
I already knew about the first couple of songs, which made sense since they were the first two songs on the new album. I already liked "Welcome To My World," but the live performance (with a kickass extended intro and a really nice screen show with the word "Welcome To My World" being written/painted sloppily across the screens) really brought more to it, and I found myself singing it to myself after the Houston concert. Great start.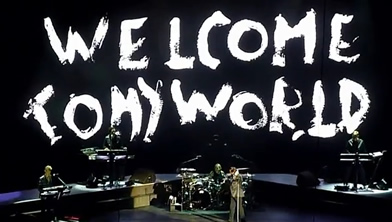 2) "Angel."
This one I already knew about, too... and it was a great presentation. The visuals transitioned from quickly-fading live shots of the band members popping up on different parts of the main screen to a red-plastered visual assault during the faster parts later on. The band's performance was spectacular; "Angel" was AWESOME.
3) "Walking in My Shoes."
As I've said in the past, if I hear "Walking in My Shoes" at every DM concert I ever attend from here on out, I won't mind. It's a bonafide classic and one that really strikes a chord with me lyrically and musically. The track links me back to 1993, which of course was a massive year in my history. The new synth-laden intro to the track (which I'd heard in their Letterman performance early in the year) was a great change as well.

This is one of my six-year-old son X's favourite DM songs, but strangely he didn't seem to recognize it at the concert until Dave actually sang the words "Try walking in my shoes," at which point X's mouth dropped open and he looked over at me with a childhood glee most six-year-olds don't get to experience. :)
4) "Precious."
Okay, this is where the screen shows got a bit weird. For those who don't know, "Precious" is one of the rare songs for which Martin Gore has given explicit details about its subject matter: It's a song about the effects of his divorce on his children. So, obviously, it made sense that Anton Corbijn would make a whole screen show out of footage of DOGS. (WtF?) Granted, the screen show was cute, with different breeds of dogs sitting around in front of a big concrete wall. It just didn't fit with the song.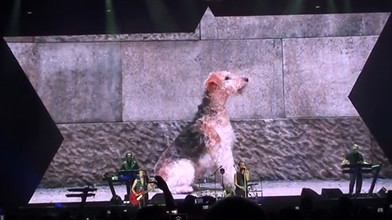 Nevertheless, I love "Precious." It would be much better live if Martin played his riffs on a synth instead of a guitar, but it's still a great song.
5) "Black Celebration."
If it were not for an accidental glance at a setlist haphazardly (okay, dickishly) posted on Facebook by the "Slicing Up Eyeballs" blog, then I wouldn't have known that this one might be performed.

On the way to the Woodlands show, Tiff and I discussed the tracks that we would hope to hear, and she said that aside from her DM favourite, "Shake the Disease," she had really been in the mood for "Black Celebration." I didn't let her know that it might be in the set, but once the song kicked off, we were both thrilled. ("Black Celebration" has been one of my favourites of theirs as well for a mighty long time.)
Also, in Dallas, this was one of the tracks that X could recognize and appreciate, since I had played it often around him.

This was a nice arrangement. It started with the classic sample of Mute Records' Daniel Miller impersonating Winston Churchill, saying "a brief... period... or rejoicing," then went right into the familiar opening chime synths. With Christian Eigner driving the song on live drums, the track churned along at what seemed to be an even slower, more ominous pace than the incredible 2001 rendition from the Exciter Tour. It was very well-done and an AWESOME inclusion into an already fantastic set list.
6) "Policy of Truth."
And now, here's where things went south a bit. I liked "Policy of Truth" as a single back in 1990, but as anyone who has read my bashing of the "Tour of the Universe" concert knows, I am sick of hearing the standard rendition of "Policy of Truth" over and over at Depeche Mode concerts, taking up a good chunk of time in which we could be hearing something more surprising or creative. My disdain for their boring live rendition of the track remains, even though people who are new to DM concerts just eat it up. BLAH.
7) "Should Be Higher."
Okay, back to the new album again. "Should Be Higher" was (and, at this point, still is) the forthcoming third single from Delta Machine, and the screen show - featuring close-ups of fire dancers - was spectacular. The song was great, too... not my favourite from Delta Machine, but definitely a single that possesses the "classic" synth sound for which Depeche Mode is well known.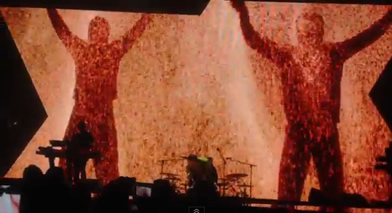 8) "Barrel of a Gun."
I knew this was coming. I love the studio version of "Barrel of a Gun," but after hearing Dave absolutely butcher the song on "Letterman Live," I wasn't looking forward to it. Sure enough, at the Woodlands performance, at the Dallas performance, and presumably at every performance of the song on the Delta Machine tour, Dave's off-key screaming of the lyrics just rendered the track worthless. It was actually kind of sad.

Some other cities on this got "John the Revelator" instead of "Barrel of a Gun." I would envy the crowds at those shows... but I wouldn't have traded anything for what we got as track #10 at both shows.
9a) "The Child Inside." (Houston/Woodlands)
Whew. Um... yeah, this one sucked. It started off the standard two-song "Martin set" during the main setlist - during which Dave goes back and has a break and Martin sings two slow tracks. For those who aren't familar with "The Child Inside," it is the only "Martin song" on the standard edition of the Delta Machine album, and it BLOWS. It's not romantic or heartbreaking; it's just bizarre and creepy, with lyrics like "body parts are starting to appear and scare / the child inside away," "watching from afar in see a child is drowned," and "the child inside you died."
Luckily, we only got this one at the Woodlands. I remember looking over at Tiff and saying something like "I know... it's horrible." She then noted, "But he seems so proud of it." She was right, and that was hilarious.

Track #10 more than made up for it, though.
9b) "When the Body Speaks." (Dallas)
At Dallas, we fared only slightly better with our first "Martin song," as he performed one of my least favourite tracks from the Exciter album, "When the Body Speaks." To his credit, he gave the song a feeling that Dave Gahan's vocals simply couldn't twelve years ago. It was a more beautiful song with Martin's vocals, but still a lame track.
At least in Dallas, we got the same second "Martin song" as Houston... and that was...
10) "But Not Tonight."
I plan on making an entire blog entry about this one song. I knew that Martin had sung it at a few of Depeche Mode's stops during this tour, and it was my #1 hope to hear at the Woodlands, because the song is such a highly-valued track among the longtime, old-school DM fans. (Basically: The song was a throwaway track Martin wrote in 1986. DM themselves reportedly used to hate this song, and they never performed it live... until this tour, when it shocked the absolute crap out of the fanbase and went over amazingly well.)
Underneath a fittingly awesome nearly-full moon over the Woodlands, Tiff and I were both thrilled when the song started, and we just stood there, both listening and crying. It was the absolute high point of the Woodlands show.

At the Dallas performance, a number of people sat down during both of the Martin songs, which is somewhat customary among the fans who have shown up mainly to hear "Personal Jesus" and "Enjoy the Silence." My wife and X sat down and I stood up listening with a number of the other long-timers who had been hoping for this one. It was worth hearing twice, and if I could hear Martin sing it again and again at future performances (if I were lucky enough to attend future performances)... I'd be thrilled with it.
Martin's performance of "But Not Tonight" propelled it up into the ranks of my all-time favourite DM tracks. More on that in the next blog entry.
11) "Heaven."
The first single from Delta Machine, "Heaven," was musically very well-put-together, lyrically decent, well-performed, and a little boring. The live version was pretty much the exact same way. At least it had an interesting screen show, with black-and-white footage of DM in the south, welding pieces of metal to create triangles for the DM logo. I acknowledge the track as a necessary inclusion.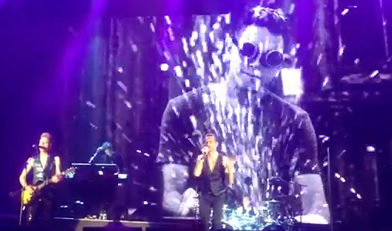 12) "Soothe My Soul."
The second single from Delta Machine, "Soothe My Soul," borrowed heavily from "Personal Jesus" (with a percussion line that's almost identical) and had lyrics that could be interpreted as essentially saying "I like you so much I'm going to break into your house and rape you." Nevertheless, it's what my UK brethren would call a "stomper," and it went over great with the crowd, topped off with a noisy, climactic, guitar-wailing ending. Quite good.
13) "A Pain That I'm Used To."
This would have been a huge surprise at the Woodlands show, if it weren't for some jackass a few feet away who decided it would be fun to start READING THE NEXT FEW SONGS IN THE SETLIST from his cell phone. It was awesome to hear something else from Playing the Angel other than the earlier "Precious. It was also nice to hear a new version - a live reworking of the Jacques Lu Cont Remix featuring Peter Gordeno (the keyboardist that does a lot of the work that Andy "Fletch" Fletcher really should be doing) taking the stage on bass buitar!
Something puzzling: With Martin on guitar and Peter on bass, that left nobody to play keyboards except for Fletch. However, Fletch usually doesn't really play keyboards; he claps and waves and watches the others work while he stands there basically being a bellend. So, I can only presume that any synthwork for "A Pain That I'm Used To" was most likely completely pre-recorded. That's okay, since this version was pretty much fueled by the guitar, bass and drums anyway. EXCELLENT inclusion.
14) "A Question of Time."
URRRRRRRRGH. Hey, everyone, it's the same damn version of "A Question of Time" that DM have been trotting around the stage since the Singles Tour back in 1998! I'd welcome a new rendition, but this really just felt like a placeholder. You can see further commentary about "A Question of Time" in my "Tour of the Universe" rundown; my feelings, like those about "Policy of Truth," haven't changed. Yawn.
15) "Enjoy the Silence."
This is one of the two most important songs of any DM concert, along with "Personal Jesus." It's not among my all-time favourites, but it ranks wayyyyyyy up there, and I have very special memories of it from the year of its release in 1990.
This version was nice... it was a little different than earlier versions (I loved the drum work!) but it wasn't astoundingly changed. The screen show was rather odd, featuring a set of naked female contortionists (with the crucial "bits" covered/obscured) crammed into triangle-shaped sections. It was strangely beautiful. It didn't have anything to do with the song theme or lyrics, but at least it wasn't a bunch of dogs...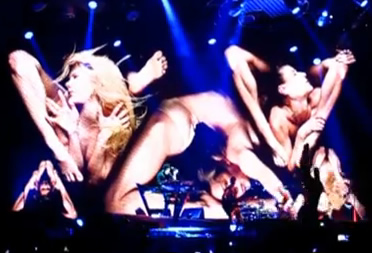 This was one of the songs that most reminded Tiff of me from back in 1990, and among a number of other things it will always remind me of a conversation with Tiff from September 1990. So, it was a majorly important song for the two of us to hear performed together.
At the Dallas show, this was another of the tracks that X had really been looking forward to... but I believe it was during this track that my son actually fell asleep, using my wife's purse as a pillow to slump over onto his seat's armrest. He ended up sleeping for the next five songs, thankfully waking up just in time for "Never Let Me Down Again."
16) "Personal Jesus."
As I mentioned a few moments ago, "Personal Jesus" is pretty much a staple for any Depeche Mode concert. This was a good version, with a new drawn-out intro that I didn't recognize at all at first. Bravo.
It's important to note that if we were at a concert during the earlier European leg of the tour, "Personal Jesus" was followed by two of my Delta Machine favourites: "Secret To the End" and "Goodbye." The US leg of this tour was deemed unworthy of those two tracks, which were replaced by... well... nothing.
But, hey, at least we got "Policy of Truth" and "A Question of Time" again! *sigh*
Encore:
17) "Home."
Wow. Martin Gore sure loves singing "Home," or at least I presume that he does, since he has sung it on tour after tour after tour. It's a beautiful song, but he has a lot better stuff in his back pocket that he could have included instead (like "The Bottom Line" or "Dressed in Black" or "Freestate" or "Shake the Disease" or "It Doesn't Matter" or "It Doesn't Matter Two" or "The Things You Said" or "Here Is the House"), especially at two consecutive concerts.
But, hey, at least it wasn't "Somebody."
18) "Halo."
Here's another one that got "insta-spoiled" by some pinhead in the crowd who shouted out the song title right before it started. HOLY COW, what a performance. I didn't used to be a huge fan of "Halo," but this performance really brought me over as a fan of it.
This was not the uptempo version that they'd played during earlier tours... this was a gorgeous new slow version, based somewhat on the Goldfrapp Remix from 2004. The screen show was a beautiful film of a young lady moving slowly around different locations in black and white, with a stark red triangle framing the middle of the screen. WOW, what a surprise inclusion. I loved it.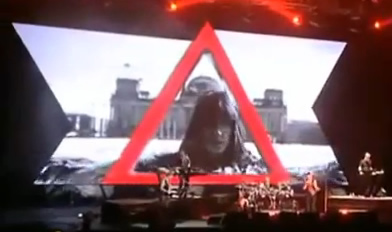 19) "Just Can't Get Enough."
Snore. Oh, how some of the fans love this one. It's one that DM choose to drag out every couple of tours or so, and it goes into the same category as "Policy of Truth" and "A Question of Time" in that they need to give a REALLY major overhaul or retire it completely.
20) "I Feel You."
Oooooooh. I did love the screen show for this one, with throbbing speaker graphics and the silhouette of a female "DJ" putting the needle onto a glowing red vinyl record to start off a parade of shadowed dancers appearing all around the screen. Good inclusion and another one that I'll never completely get tired of.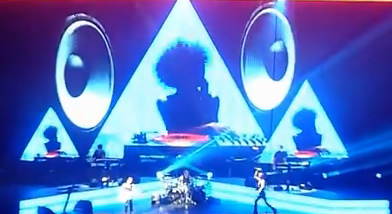 21) "Never Let Me Down Again."
Ah, "Never Let Me Down Again" - the one that really started off my obsession with Depeche Mode about twenty-six years ago. A Depeche Mode concert just wouldn't be complete with this one, and while this version didn't seem to pack the energy that the song had exuded during previous tours, it was a nice blues-flavoured rendition that was still quite enjoyable, and a great way to close out the concert.
In Dallas, X woke up just in time for "Never Let Me Down Again" to start, and even though he was still woozy, he enjoyed being able to hear his #1 favourite DM song live for the first time. When I ask him, he still counts "Never Let Me Down Again" as his favourite part of the concert, followed by "Walking in My Shoes."
So, it's time to do a bit of analysis here. Here are the number of times each album was represented at the concerts:
| | | |
| --- | --- | --- |
| Album | Woodlands | Dallas |
| Speak + Spell | 1 | 1 |
| A Broken Frame | 0 | 0 |
| Construction Time Again | 0 | 0 |
| Some Great Reward | 0 | 0 |
| Black Celebration | 3 | 3 |
| Music for the Masses | 1 | 1 |
| Violator | 4 | 4 |
| Songs of Faith + Devotion | 2 | 2 |
| Ultra | 2 | 2 |
| Exciter | 0 | 1 |
| Playing the Angel | 2 | 2 |
| Sounds of the Universe | 0 | 0 |
| Delta Machine | 6 | 5 |
Here's something I found really interesting: There were zero songs played from the 2009 album, Sounds of the Universe. NONE. To my knowledge, the band hasn't included any SotU tracks during any part of this tour. It's almost as if they realize what a overall disappointment that album was, and they are avoiding any reminder of that for their fans. Good for them! (Granted, I did like a few songs from it, and I was somewhat surprised that they didn't even include "Wrong," but overall Sounds of the Universe was a real letdown.)
Something else I noticed: Fletch seemed to do even less than usual up on stage, and that's really saying something. Even though Fletch is considered a "real" Depeche Mode member, he really doesn't do much on stage. Touring musicians Peter Gordeno (keyboards/bass) and Christian Eigner (drums) appear to work their asses off during the show, but Fletch just kind of hangs out. It's something for which he has a reputation. Like I mentioned earlier, he's basically there to clap, wave, and watch the others perform... but this time around, it was even worse. There were times when the entire rest of the band on stage would just be jamming the hell out (like during the big instrumental breakdown of "Enjoy the Silence") and Fletch would just be standing there with his arms down at his sides, watching.
Watching him stand there so lazily, show after show, tour after tour, sure makes me miss Alan Wilder as a DM member.
Overall, I was thrilled with the Delta Machine tour. The band included enough surprises ("Black Celebration," "Halo," and "A Pain That I'm Used To") to keep things interesting, and the inclusion of "But Not Tonight" was absolutely incredible.
These two shows weren't my absolute favourite DM concert experiences - Dallas 1990 and Dallas 1993 will probably always be my all-time favourites - but they rank pretty far up there.
More soon!
Badger
[Note: The screen show pics were lifted from a number of YouTube videos. Most of them were from the Nice performance, not either of the Texas shows.]